RMU Homecoming 2011: Night game, live concert add new appeal
With a football game under the new stadium lights of Joe Walton Stadium, a concert from Scott Blasey, the frontman of Pittsburgh-based band The Clarks, and a number ofreunions for alumni, Robert Morris University's 2011 Homecoming will not be like years past.
Since installing new stadium lights at Joe Walton stadium this past June, the NEC Champion football game that puts RMU Colonials against St. Francis Red Flash on Saturday, Oct. 8 at 7 p.m. will be the first major sporting event to utilize the lights.
Many students, such as RMU's Student Government Association's President Alan Buehler, are excited about this first night game.
"The under the lights setting is way more crowd pleasing, and it's really going to pump up the football team and get the crowd ready," Buehler explained. "I think being under the lights, especially in a college setting, is more fan friendly."
Indeed, the enticement of an under the lights setting seems to be attracting more alumni to make the trip to campus.
According to Mary Gerard, assistant director of alumni relations, ticket sales have already picked up and feedback from students is positive.
"We're hoping that really this being the first night game and Homecoming really do increase our attendance and that we'll have a bigger showing this year," Gerard stated.
Pre-game and post-game events could also be the reason for a stronger attendance this year.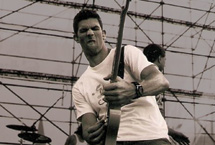 Wanting to attempt something different, the idea of a live concert was proposed, and RMU Web/Social Media Designer Doug Derda had just the person in mind. Having met The Clarks' frontman Scott Blasey at a concert nearly 10 years ago, Derda contacted him and invited him to perform in Tailgate Alley from 5 – 6 p.m.
"He was completely on board for it. Any chance that Scott gets to play, he loves to get out and do it," said Derda.
A firework display, courtesy of Pyrotecnico, will take place shortly after the football game, according to Gerard, wrapping up activities on Saturday.
While alumni will have the opportunity to catch up in Tailgate Alley with numerous reunions taking place, such as the 50th anniversary of the Steelerettes, the first NFL cheerleaders, current RMU students will be able to enjoy a night together at the annual Homecoming Dance the night prior to the game.
Planned by junior class officers Danny Bryant, president, and Roman Scott, vice president, the dance will be held for the second year at the Sewall Center on Friday, Oct. 7 from 9 p.m. – midnight.
Assistant Dean of Students Maureen Keefer explained that over 1,200 students attended last year, and she expects just as many, if not more, to attend this year.
"We have gotten so big. The event can't be accommodated anywhere else," stated Keefer. "We don't want to be in a position where we have to turn students away because we were limited by our size."
At the dance, students will be able to enjoy refreshments and dance to music played by a live disc jockey.
Tickets for the dance are now available in the Student Life Office. While the tickets are free, students need one in order to enter the dance. Students are allowed to bring one guest as well, as long as they also have a ticket and bring photo ID.
The 2011 Homecoming Court will also be introduced at the dance, and the King and Queen will be announced during halftime at the Friday football game.
Voting for King and Queen will take place in the Nicholson Center Food Court on Wednesday, Oct. 5 and Thursday, Oct. 6 from 11 a.m. – 1 p.m. and 4 – 6 p.m.
For a complete schedule of events taking place Homecoming weekend, please visit RMU's Web site.
Tells us in the comment section what you plan to attend this Homecoming weekend!
[tfb username=AZRMUsentry count='true' lang='en' theme='light']