One Young World breaks out to RMU
This past Saturday, Oct. 20, 47 delegates from the One Young World summit, held annually in different parts of the world since 2009, visited RMU for two simultaneous break out sessions in John Jay.
Representing 26 countries from England to the Congo, the young delegates arrived on the RMU campus at quarter to four in the afternoon. As they entered John Jay, they were warmly greeted by Provost David Jamison, as well as  by Derya Jacobs, and Lisa Nutt, coordinators of the breakout event. Following the conclusion of welcome remarks from President Gregory Dell'Omo, the delegates were organized into their respective breakout sessions.
One group of delegates proceeded to the simulation nursing lab were they were briefed on the benefits of learning nursing practices on technologically advanced mannequins. Delegates were shown how the mannequins were able to speak and mimic many medical conditions. Through stethoscopes, many of the group were even able to listen to the mimicked heart beats. After their time in the lab, the nursing focused group moved to room 229 in the John Jay annex for a lecture on health care leadership and teams on the RISE.
The larger of the two groups began their time in John Jay room 284 discussing global warming and alternative energy concerns across the world. The signs of global climate change were discussed, as well as what other countries are doing to promote a decrease in green house gas emissions.
Following this group discussion, delegates were lead down into the engineering labs, were they were shown many of the projects created by RMU students. "RobotMorris," a three dimensional plastic bust of RMU's founder, was one of the most popular of the projects shown. After this short reprieve, students were lead off to an adjacent computer lab were they spent the conclusion of the session discussing green energy alternatives and practices world wide.
Following the conclusion of the breakout sessions, delegates were welcomed into the home of Derya Jacobs,Vice Provost for research and graduate study. Here, the delegates were provided with dinner, and a chance to unwind from the hustle and bustle created by a national conference.
About the Writer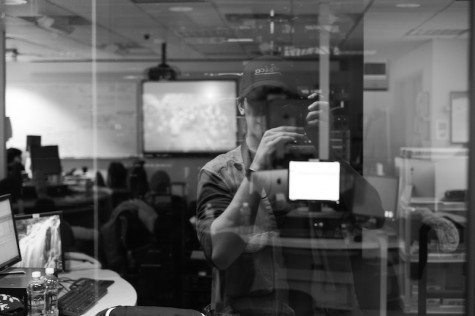 Paul Wintruba, Contributor
Paul is a junior photography major, and is a photographer for RMU Sentry Media.