Phi Delta Theta Sponsors the Walk to Defeat ALS®
The Phi Delta Theta fraternity at Robert Morris University (RMU) is calling on fellow students, faculty, community members and guests, to join its members in supporting an annual walk to raise awareness of and funds for amyotrophic lateral sclerosis (ALS), also known as Lou Gehrig's disease.
The Walk to Defeat ALS® will be held on Sunday, March 25, 2012, from 8 a.m. to 5 p.m., at RMU's campus.
ALS is a degenerative disease of the motor neurons, muscle-controlling nerve cells in the brain and spinal cord that control voluntary muscle movement. According to the Muscular Dystrophy Association (MDA), symptoms include generalized weakness and muscle wasting, with many sufferers eventually losing their ability to walk or stand. The origin of ALS is generally unknown, although 10 percent of cases are genetic, which means that there is a family history.  ALS usually appears in adulthood.
Nationally, the Walk to Defeat ALS® is developed by The ALS Association, a non-profit organization with national headquarters in Washington, DC.
"The walk was officially created in 2000 to help people with Lou Gehrig's disease and their families live fuller lives," according to Cathryn Savino, ALS Association project coordinator of the walk.
"We've been at it for 10 years and every year we see more people participating and more people familiar with the impact of this disease."
So far this year, The Walk to Defeat ALS® has raised more than $1,800,000.00, and approximately 13,000 participants have already registered.
Christos Antoniou, vice president and deputy general counsel for Verizon Global Wholesale has participated in the ALS Walk for the last 10 years to show support for his wife's sister-in-law, Sandy Stuban, who has ALS, and to "raise awareness of the urgent need to find a cure for ALS," which Antoniou says is one of the so-called "orphan diseases."
Antoniou has very warm feelings towards people who get involved in the ALS Walk, as well as in other consciousness raising and support giving endeavors, such as the Brain Tumor Society and the Breast Cancer Walks.
"They are other-centered, kindred spirits who understand that we are all at our best when we help others," said Antoniou referring to students and people who get involved in the ALS Walk.  "This is especially true of young people who choose to be active in the ALS Walk and similar events, as they understand, at a very young age, this fundamental truth of life."
"I ask all who can to support the ALS Walk, by walking, if possible, and by making a donation to fund additional research to help find a cure and to fund other therapies as soon as possible for this debilitating disease," said Antoniou. "Your kindness and generosity will make a difference."
For more information on how to participate contact Garrett Zimmer, junior, Phi Delta Theta philanthropy chair: gezs[email protected]​.edu
About the Writer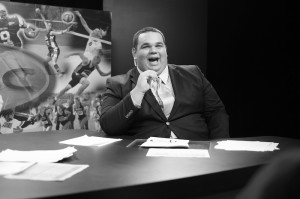 Dante Verme, Talent
A senior Communications with Applied Journalism major at Robert Morris University, Dante is an anchor for RMU's Colonial Sports Center. In addition to...