BREAKING: Pittsburgh Public Safety provides update on Fern Hollow Bridge
UPDATE: Jan. 31, 5:29 p.m.:  Crews have removed the bus from the collapse site.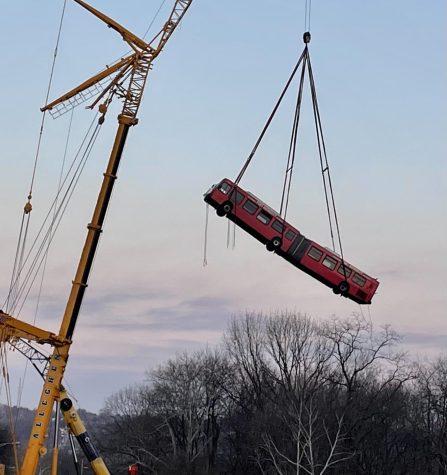 Feb. 2, 10:26 a.m.: The public observation area that was opened to the public on Monday has been closed indefinitely effective immediately for remediation. Clayton Loop Biddle Trail and Homewood Trail remain open while Tranquil and Undercliff trail remains closed.
PITTSBURGH — On Monday afternoon, Pittsburgh Public Safety provided an update to the Fern Hollow Bridge collapse site and the creation of a new public viewing area of the site.
This afternoon, Acting Public Safety Director Lee Schmidt held a news conference to discuss the creation of a new observation area.
Schmidt announced that you can access the observation area through Beechwood Blvd, on the Squirrel Hill side of the bridge, and will be opened from dawn to dusk. The Regent Square side of the bridge will remain closed.
Frick Park will also reopen except for the area near the collapse site.
As for the vehicles that are in the collapse site, cranes were placed to remove the Port Authority Bus and other cars that were impacted by the bridge's collapse.
As of 12:30 p.m. Monday afternoon, the hazmat team is working to remove the 125 gallons of diesel fuel from the bus and cars to prevent an environmental disaster if the fuel were to leak out of the bus and into the creek below. There is no timetable as to when the cars and bus will be removed from the collapse site.
This is a developing story.