Pittsburgh puckers for pickles
Picklesburgh is back in town for its fourth straight year. Pittsburgh's celebration of everything pickled continues to grow — this year being bigger and better than in previous years. There has even been a third day added to the festival for 2018.
As in previous years, the events will be held on one of Pittsburgh's famous bridges, although this year it is hosted on the Robert Clemente Bridge due to construction on the Rachel Carson Bridge where it had been located in the past. Picklesburgh opened at noon on Friday, July 20, and will be full of good food, music and fun on Saturday from noon to 10 p.m. and Sunday from noon to 6 p.m.
Events are scheduled throughout the weekend, but one of the most anticipated of those is the Pickle Juice Drinking Contest. This year, it will take five rounds to determine a winner who will become the mayor of Picklesburgh. The first round starts at 1 p.m. on Saturday and the finals take place at 8:30 p.m. on Saturday, with the new champ returning on Sunday afternoon to face all three of the previous winners in the Ultimate Champions Round on Sunday at 2:30 p.m.
The bridge was already crowded and buzzing with excitement and music on Friday afternoon shortly after the festival opened. Cassady Bliss, Robert Morris student, was one of the early arrivals with her friends. On a sunny and warm Picklesburgh day, they decided to try the pickle lemonade.
"Pickles are one of my favorite foods," Bliss said. "The pickle lemonade is kind of tart, but it's not bad."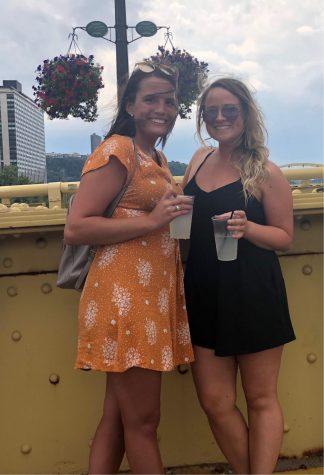 While Bliss is connected to Pittsburgh, Picklesburgh has started to gain notice outside of the local area. Jim Yuhas, a resident of Cleveland, made the trip here to experience the festival first hand. Despite a brief shower that cooled the air, he wasn't disappointed with the trip.
"[The food] has been awesome," Yuhas said. "The pickled beer is good, and I got 'cheese in a pickle,' that was good."
Visitors aren't the only ones who enjoy this annual event. The vendors who operate the booths lining the bridge are equally positive about being there. Lina Vetter, the owner of LinaBags, is back this year, and she enjoys getting to meet the people that stop by to see her merchandise.
"People who come to this festival are happy and fun people," Vetter said. "They love to eat, they love to talk and socialize, so it's a cool crowd — I have fun.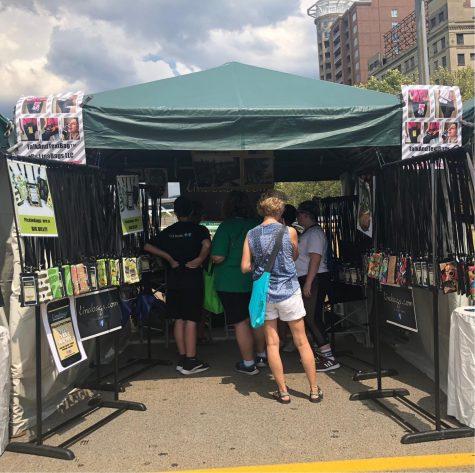 The official festival web site (http://www.picklesburgh.com/ ) details the festival hours, music lineup and other events. From photo booths where you can pose as a pickle to all variety of balloons that look like pickles, Picklesburgh is a unique Pittsburgh celebration with something for everyone, and Vetter might have the best take on what it's like to visit.
"Pickle on," Vetter said.