Statement from Pittsburgh Public Safety on synagogue shooting
PITTSBURGH – The City of Pittsburgh Department of Public Safety released a statement on the Tree of Life Synagogue mass shooting.
46-year-old Robert Bowers entered the synagogue Saturday morning where he killed 11 people and injured 6 more, 4 of which are police officers.
RELATED STORIES:
Names of officers injured in synagogue shooting released
11 dead, 6 more injured in Pittsburgh synagogue shooting
RMU President Howard releases statement regarding Squirrel Hill shooting
Victims in Pittsburgh shooting identified
Robert Morris alum among those killed in Synagogue shooting
Statement from Public Safety
The unthinkable events that occurred in Squirrel Hill this weekend shook an unshakable city.
Everyone in Public Safety, from Director Wendell Hissrich to team members who themselves worship inside the Tree of Life Synagogue, would like to extend our deepest condolences to the victims' families, the entire Jewish community, the residents of Squirrel Hill and everyone and anyone affected by this despicable act of hatred.
We would also like to say thank you.
Thank you to the first responders who rushed toward gunfire. Your bravery and heroism prevented this tragedy from being even worse. Thank you to neighboring and regional agencies who volunteered their time to fill in for Pittsburgh crews so other parts of the city remained covered.
Thank you to the public. The outpouring of support you have shown for the victims and for first responders has been overwhelming. Yesterday, Director Hissrich and Police Chief Scott Schubert briefly visited Zone 4, just a couple blocks from where the tragedy unfolded, and found walls covered in handwritten notes from residents. They stayed for 20 minutes, and in that time no fewer than four people showed up to deliver food and hugs for the officers and others who have been working around the clock to keep our city safe.
In addition, thank you to the media. When we needed to deliver crucial information, you were there to serve the public. Everyone needed to work together as a city and community, and you served an essential role in that process.
Over the next several days, funerals for the victims will begin. On behalf of the victims' families, we ask the media to continue being respectful and allow them privacy and space. This extends to people who were inside the synagogue, the victims who remain hospitalized, and their families.
In addition, the injured officers also request privacy. We have not released the names of the injured officers because they have requested and deserve privacy while they heal from their wounds. Some media outlets have reported names of injured officers. These names did not come from the city, and many of these reports included inaccurate information. We will release the names at the appropriate time.
To city residents, please rest assured that Director Hissrich and Chiefs Schubert, Darryl Jones and Ron Romano are taking every measure to assure public safety for all.
We are, and will remain, Pittsburgh Proud and Pittsburgh Strong.
"When I was a boy and I would see scary things in the news, my mother would say to me, 'Look for the helpers. You will always find people who are helping.'" — Fred Rogers
About the Contributor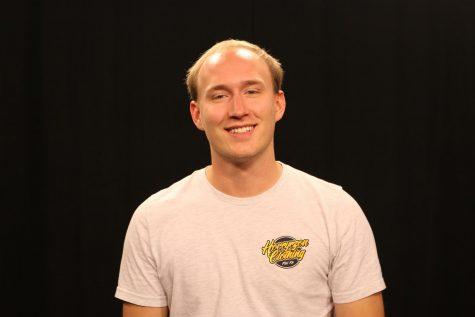 Gage Goulding, News Editor
Gage Goulding is a senior Applied Journalism major with a minor in Public Relations. Gage is the Lead Anchor for RMU Live as well as a package reporter...