Rescued author Israel Centeno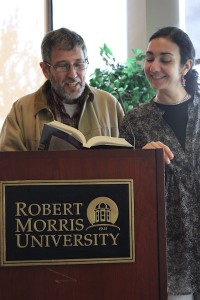 Last Thursday,Oct. 16, RMU's Department of Communication and the Department of English hosted a poetry reading with author Israel Centeno. A rescued writer from his native Venezuela, Centeno is a poet, playwright, fictional author, professor of literature and avid reader.
"You must be reading if you are writing all the time," said Centeno during part of his address to the audience. This true champion and lover of literature opened his presentation by reading in English one of his shorter works Walter Junior de Jesu's-don't know if there is an 's in the title or not. This relatively short tale tells readers about a champion fighter's fear of defeat at the hands of another fighter, ironically ending with the great warrior being defeated by his own advancing age.
Following this story, Centeno proceeded to read another one of his short works entitled, "Bamboo City, Summertime," choosing to read the tale aloud in Spanish as his audience followed along with printed copies.
After concluding with the readings of his shorter works, Centeno read an excerpt from his latest novel "Under the Leaves" in Spanish, with translations by Professor Carolina Loyola-Garcia. This future four book saga mixes the Victorian era in London with a popular character from Venezuelan culture. Centeno is currently working on plans to make his saga into a series of graphic novels.
Following his book readings, Centeno participated in a short question and answer session with his audience. Among the topics discussed, Centeno touched on the histories of his personal life and what ultimately brought he and his family to the United States.
"I was under persecution for writing this book," said Centeno, in reference to his novel El Complot, "about how the left wing in my country tries to kill the president during a political revolution. They tried to hurt me and threatened my family."
While Venezuela is a democracy and there is freedom of speech, it is freedom of speech with consequences attached. The publication of "El Complot" caused Centeno to loose his job, have his arm broken, and have the safety of his family threatened. It was at this point where the City of Asylum writer-in-exile program was able to step in and offer the Centeno family an escape.
Centeno, his wife, their two daughters, and their poodle came to America in 2011 and have been living here happily ever since. This brave family are now provided with a secure home, a safe environment, and quality medical plan through the hard work of volunteers at City Of Asylum Pittsburgh.
If you want to help out with the great work City of Asylum is doing here in Pittsburgh, get involved throughout their website: http://www.cityofasylumpittsburgh.org/