Change is inevitable. Seasons change, clothing styles change and sometimes it is just time for something new and improved. Even Robert Morris University could not avoid change.
But change is good when it includes a newly renovated cafeteria, a new School of Business and a new residence hall that nearly everyone wants to live in. The summer of 2011 saw quite a bit of construction, but it was all for the best.
The university is up and running for the start of classes on Aug. 29, and the first stop is more than likely going to be the new cafeteria.
There was no such thing as a cafeteria a few weeks ago; all that sat on the second floor of the Nicholson Center was an open room with a concrete floor. Now, in its place sits a newly renovated cafeteria.
Story continues below advertisement
The cafeteria was a decent size before, but now the worry of finding a seat during the lunch and dinner times is not an issue. The new space seats at least 100 more students than the old area, and that space will be easily filled with the more than 800 freshmen joining campus this year.
In addition to students' old-time favorite foods, they will be able to enjoy a healthy new section, "Freshens."
"Also new this year at the Food Court is the "Freshens" station, which features yogurts, smoothies, and crepes, with a variety of fruit and other toppings," stated President Dell'Omo in his welcome letter sent out to students.
Not only will this new station be a nice change from the usual menu, but it will also provide healthy and delicious treats to enjoy between the hectic changing of classes.
In addition to the revamped cafeteria, the construction, taking place near Massey Hall that began June 2010, was completed.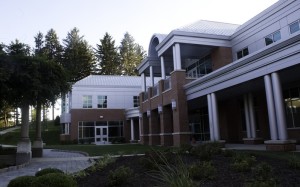 Where constriction materials and workers once stood, the new 18,000 square foot School of Business building now stands. The new building is overflowing with equipment and creates a better working environment for both students and faculty. Moreover, the location of the building is convenient for students as it provides them easy access to the faculty members who have their offices located in Massey Hall.
According to the Dean of the School of Business Derya A. Jacobs, the new building will be home to the following: the PNC Trading Center with 34 double monitor computers, ticker, world clocks and a Bloomberg Computer; the U.S. Steel Technology Resource Center with 10 Bloomberg computers; the U.S. Steel Videoconferencing Center with Cisco TelePresence system; Allegheny Technology Global Business Library with an Interactive Digital Marketing Wall and computers; a Computer Laboratory with 40 moveable laptops; and multimedia general lecture classrooms.
Not all of the new equipment may sound familiar, but it certainly is impressive!
Keep in mind this new building is not just for students with a business major. All students who are enrolled in a business class will be able to make use of this new building, which makes the trek up the hill worth it.
"We are proud of the new building and we believe that our students will appreciate the environment created for them," Jacobs stated.
With a campus-wide grand opening celebration to take place Sept. 7, everyone on campus should set aside some time to visit the new building, become familiar with it, and admire the new high-tech equipment.
After a short dedication ceremony that took place Sunday, Aug. 28 at 4:30 p.m., Peter Salem Hall officially became part of the RMU campus.
Salem Hall was erected in order to make more living spaces available to our constantly growing student body.
"Once again we are making history at Robert Morris. This year a record number of students, more than 1,700, will be living on campus, including 144 at the Holiday Inn," Dell'Omo declared in his welcome letter to students.
Of course, Salem was the top pick for many students, but unfortunately it was not able to house everyone; the brand new apartment-style dorm houses 190 students.
With a new residence hall, School of Business building, and cafeteria, students are set for what promises to be a good year at Bobby Mo.
These new renovations allow students to take advantage of the ever-changing campus and to experience different, new things. These changes are made for us, the students, and the least we can do is take time to appreciate what all is being done for us.