RMU communication students launch new Twitter account: @RMUTraffic
Despite an increase in the number of undergraduates living on campus, 57 percent remain commuters, according to figures reported on rmu.edu.
Senior RMU communication majors Dan Fitzgerald and Christa Pica said commuters face unique challenges, such as traffic, unexpected road work, events occurring on campus and on-campus parking, in their efforts to get to class on time. How do they know? They are commuter students themselves.
"Commuting is such a pain and parking is ridiculous on campus for commuters and faculty. It's insane," said Pica.
Unlike most commuters who simply complain and take no action, Fitzgerald and Pica have taken a step forward in making the commute to campus easier not only for students, but also for faculty and staff.
Say hello to the newest RMU-based Twitter account: @RMUTraffic.
Both students in Communication Professor Yvonne Bland's Communications Seminar class, Fitzgerald and Pica went through numerous ideas, including a column in The Sentry and revamping the commuter lounge, before deciding on the Twitter account for their required Leadership Project component of the class.
"They both are commuter students and felt that there was a real need to enhance the commuter experience to help them as commuters be more engaged," said Bland, "and to provide some kind of a service that would offer that kind of connectivity to the future commuters."
The account was recently launched on Twitter and currently has just six followers. The account's official description reads, "Student-managed account providing traffic updates to the RMU community. Share your updates with us and tag #rmutraffic. Tweeting while driving is discouraged."
Fitzgerald and Pica said they are now in the process of promoting the account through flyers and a sign at the entrance of campus that will encourage the RMU community to tweet to @RMUTraffic and use the hashtag #rmutraffic. Their hope is that the account will become self-sustaining through the use of the hashtag.
"I just hope that it can sustain itself because we are really pushing that hashtag for students to use that," said Fitzgerald.
In order for the account to grow, Bland said the biggest challenge is finding someone to continue on with the account once Fitzgerald and Pica graduate.
"The biggest challenge that will exist with this project is that there needs to be a succession plan. As they graduate, who is going to help spearhead that?" said Bland.
However, Fitzgerald and Pica have already approached RMU's Social Media Manager, Doug Derda, to take over the account when they bid adieu to RMU.
Derda said his participation isn't a sure thing though.
"This is a student driven account with guidance from the social media department," said Derda. "My understanding is that the social media department will not be taking over the account. If we did take it over, I would put it into the rotation of other accounts I currently administrate. The hard part will be managing resources to make sure the account remains active with fresh news."
Bland also expressed her concerned for the success of the account.
"I'm a little nervous because it's a grassroots effort," said Bland, "but I think it makes perfect sense. I constantly have students say to me, 'I'm late because there was a 18-wheeler overturned.' Wouldn't it be nice to know that? I am hopeful that there is a long life for it, and that it will pick up and continue to be used. "
The Communication Seminar class serves as a capstone class for all senior communication majors and focuses on the job search and interview process.
Bland said her class this semester has 15 seniors with most graduating this May and a few in December.
Each student is required to complete a Leadership Project like Fitzgerald and Pica either alone or in a group.
Below is a short description provided by Bland of the other students' projects:
Wiffle Ball Tournament for Amyotrophic Lateral Sclerosis (ALS) – Rick Goughneour
To Animals, from Friends – a fundraiser for Animal Friends – Cassandra Mazzotta, Ashley Faderewski and Courtney Fazenbaker
Sandcastle Birthday Bash Party Room and Sales Package – Nathan Sudie
Happening for Haiti – a live concert fundraiser to benefit children in Haiti – Peter Monteverde, Cameron Chadwick and Nichole Schmitt
Fields of Growth Fundraiser and Awareness Campaign – Lauren Sillhart and Taylor Graves
Feasibility Study for RMU on Cycling On-campus – Tras Watts and Kelly Grago
Breast to Chest: a Documentary Short on Gender Transformation – Lauren Thomas
About the Writer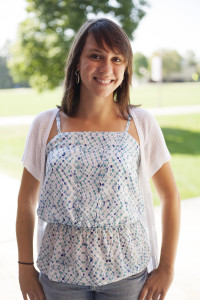 Andrea Zanaglio, Staff Writer
A senior journalism major at Robert Morris University, Andrea serves as a staff member this semester, writing and producing packages for all aspects of...