RMU mourns passing of student
The Robert Morris University campus community is mourning the death of 21-year-old senior computer information systems student, Jordan Willis, yesterday afternoon.
Willis was described as a dedicated student involved in the Top Secret Colonials and a brother of the Delta Tau Delta fraternity on campus.
According to an email from Interim President David Jamison, "The RMU Police and Allegheny County Police Departments have ruled out foul play in Jordan's passing and have confirmed that members of our campus community are not in any danger."
The cause of death is still pending at this time.
The following picture was a tweet from the Robert Morris Delta Tau Delta Fraternity, of which Willis was a founding member.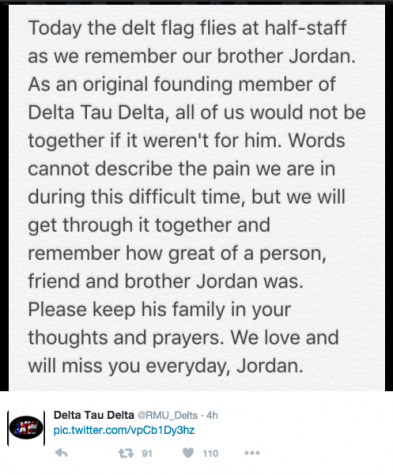 All students, faculty, and staff should be aware of the services offered by the Counseling Center on campus. If you would like to speak with someone, please call the Counseling Center at 412-397-5900. Counselors will be available throughout the day in the Counseling Center, located in Patrick Henry, and the Office of Residence Life, located in Washington Hall.
The following websites were tweeted out by the RMU Counseling Center to help students throughout the grieving process. Please visit Helpguide.org or sevenponds.com.
Anyone wishing to donate to the Jordan Willis Memorial Fund can visit Go Fund Me. There has been over $7,000 raised in less than three days.