President Howard meets with Student Government Association in Massey Theater
"We're not in debt." – President Chris Howard
MOON TOWNSHIP – Robert Morris University's Student Government Association (SGA) was joined by President Chris Howard for their meeting on Tuesday.
Students gathered in Massey Theater at 5 p.m. to ask the president questions and learn more about the status of the university and what to expect as a result of the upcoming changes on campus.
"It inspires me to see how much you, as students, care about Robert Morris University," said President Howard.
The president was joined by Provost Mary Ann Rafoth and vice president of student life John Michalenko.
Students wrote questions on forms of paper, which were given to the trio during the event. Questions were also asked directly from audience members and certain SGA representatives later on in the event.
Before taking questions, President Howard kicked off the meeting by explaining that RMU has always been a university capable of adaptation that results in the overall betterment of the university and that the academic reconstruction, announced last week, is a perfect example of this.
"It will make RMU a more competitive and agile institution that will give each of you an edge over the competition," said President Howard. "That has always been the hallmark of an RMU education and always will be."
After discussing this topic, President Howard began to answer questions from students.
The first of questions asked why staff buyouts and the restructuring of schools was not delayed until the end of the semester, eliminating the risk of departments being unable to fulfill their duties to the academic population.
"You should not feel the impact of some of these staff changes," said President Howard. "We feel like we have the right coverage and the right technology to be able to ensure that your experience is like it was before."
President Howard encouraged students who feel unable to get the same experiences, as they were before, to reach out to their deans and express this concern.
President Howard also explained that the academic reconstruction was put into action as fast as it was to prevent the immediate problem from growing into a long-term one.
"We realized that there was an impact in those lives that were touched," said President Howard, "but to make a less painful situation for the institution, we needed to act quickly."
The second question asked about rumors of the removal of sports teams to help solve the problem of debt for the university.
To start, President Howard clarified that the university is not in debt, but adjusting to make sure that its income statement reaches the point that it needs to reach.
"We're not in debt," said President Howard, "We have long-term debt to be serviced and we are fine servicing that."
To answer the second part of the question, President Howard explained that the university had no intentions of cutting sports teams.
The conversation then moved to the topic of the UPMC Events Center and whether or not it would be open for student events, such as Air Band.
President Howard explained that when coming up with a way to determine what would take place at the UPMC Events Center, the university looked to other universities such as Clemson and the University of Miami to model the process after.
"You want to optimize your revenue in the center so that you can use that revenue to support academic programs, support salaries or paying for debt," said President Howard, "so we designed the policy to do just that."
The president explained that the process puts events such as commencement, homecoming and various Robert Morris sporting events onto a calendar while leaving the other dates open for other events. These remaining dates are used for events such as concerts, which will optimize the revenue.
After this, a committee, which has already been assembled by the president, will determine what events are major enough to take place at the Events Center, if a conflict of dates occurs.
"I'm not saying, 'No Air Band,' I'm saying let's put it in the mix," said President Howard. "If I told you Drake was coming that night you'd be like, 'I don't want to see the Air Band, I want to see Drake."
President Howard light-heartedly reassured that Drake is not coming to the UPMC Events Center just yet.
The next question asked if the university prepared for a decrease in student enrollment, considering the decrease in high school students was already known.
"We were planning for it," said President Howard. "We have been watching our costs for years."
Cell phone stipends and other costs were closely watched in an attempt for the university to prepare for a decrease in enrollment as a result of declining numbers in high school students.
"We are dealing with the reality of mega change," said President Howard.
President Howard explained that, currently, budgets had been tightened across the board and that reevaluations have been done which will help the university cut unnecessary spending and save money when possible.
"Do we need every membership that we are in right now to run a university, well, no. Let's take a look at that and you find opportunities to save," said President Howard.
Along with the methods used to save money, the staff buyouts were later brought up.
The president explained that this was an effective method of saving money.
The goal of the three-pronged plan was mostly accomplished through the first two steps of the plan which was, not filling vacancies and voluntary severance packages. The third step to the plan was involuntary buyouts for staff members.
After discussing the financial changes that come with the academic restructuring, the president was asked several questions about the restructuring of schools.
Students first began asking about how the different names of the schools came.
"We wanted humanities in the name because, with English in there, we needed a larger, catch-all name than communications," said President Howard in regards to the new School of Informatics, Humanities and Social Sciences.
President Howard described the "Informatics" part of the name as a cool and edgy way to represent some of the media arts programs and communication programs that RMU offers.
President Howard also joked about making titles too lengthy and how students would have a "good time with President Howard on social media" if the acronyms ended up being too long.
The process of the merging school was further elaborated on as President Howard explained that the decision had heavy faculty input and that most of those affected were on board with the decision.
"I feel very comfortable that the people who are teaching these courses have bought in for the most part," said President Howard.
Another student asked what would come as a result of eliminating Braddock Hall as a housing facility.
President Howard responded by saying, "We will make the best decision going forward to make the best use of that asset."
The idea of a Braddock Hall-type dorm being resurrected in the future was also mentioned by President Howard. This would most likely take place after the enrollment problem was resolved.
Other topics brought up throughout the event were dorm renovations in general. John Michalenko mentioned a five-year plan which will improve housing.
"We have a five-year plan to update and renovate housing, and we plan to stick to that plan," said Michalenko.
Some things expected to improve in the plan are, HVAC, kitchen renovations and particular updates to Jefferson and Franklin, the oldest buildings on campus.
Despite reported problems of the Counseling Center facing issues and wait times, the president explained that the issue is being worked on and that budgeting in that area is to be increased.
The number of campus cameras and where they are located was also under review.
One student mentioned reported incidents of cars being hit in parking lots and how the lack of cameras has lead to a challenge in this problem getting solved.
The president said that he would look into this issue and encourages students to report incidents like this to Chief Mink and RMU P.D.
John Michalenko reassured that he would discuss the topic with Public Safety officials and that police escorts are available for any student who feels unsafe while on campus.
Student surveys were discussed, along with their importance to the university.
"We are trying to understand how students feel," said John Michalenko.
President Howard elaborated on this topic saying that the surveys helped the university make the changes students asked for and also understand what they wanted.
After these questions were asked, President Howard thanked the members of the SGA for having him.
"I am happy to come out to any organization," said President Howard. "If you invite me, I will come, especially if you feed me."
About the Writer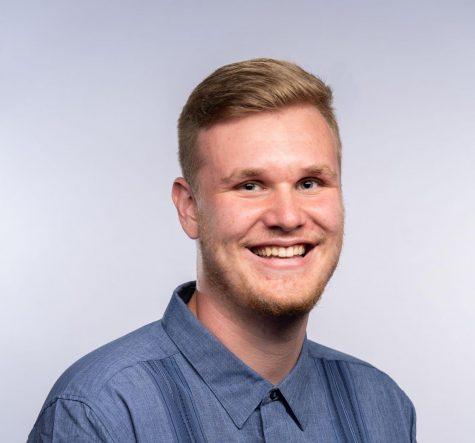 John Blinn, Head Arts & Entertainment Editor
John Blinn is a senior Communications major from Freedom. John can be found most of the time listening to the Foo Fighters. John is taking on two new roles...