School of Education and Social Sciences promotes women in sport
Robert Morris University's School of Education and Social Sciences celebrated National Girls and Women in Sport day by holding their spring symposium in honor of the topic.
The idea first came about when Mary Ann Rafoth, dean of education and social sciences at RMU, read publications that Samantha Monda, assistant professor of psychology, and Lauren Rauscher, assistant professor of sociology, were working on together regarding the impact of sports on girl's growth and development.
"I thought it was a good fit for RMU because we are a division one school. We have a number of excellent women's sports and we want to profile women's issues as a university, so I thought this is perfect," said Rafoth.
The symposium focused on celebrating successes and opportunities that girls and women have when participating in sports, along with discussing challenges and barriers that they can face.
Broken up into sessions, the first was keynote speaker Dana Voelker, assistant professor of sport and exercise psychology at West Virginia University. Voelker spoke about how women can develop leadership though sport participation.
After the keynote presentation, two breakout sessions were offered to attendees. Karen Hjerpe, athletic director at California University of Pennsylvania presented Title IX: Gender Equity in Athletics, while Kerrie Kauer, visiting scholar at the University of Pittsburgh, presented Inclusive Excellence: Celebrating LGBT Identities in Sport.
The final session of the day was an applied experience panel with four different panelists that engage women in sport in various ways.
"Finding good quality speakers that can provide a perspective that maybe we wouldn't get here at RMU was a really important part of putting this together," said Monda.  "So we gathered individuals to hopefully act as role models to our students here."
Community organizations also joined in the symposium including the Pittsburgh Passion, a professional women's football team and non-profit Girls on the Run, which helps girls get involved in sport at a young age.
There is a 26 percent gap between the number men and women that participate in sports today, even with women participation being at its peak. Research shows that girls involved in sports are much more confident, have higher self-esteem and better academics.
"The most important piece of today, was to bring people together who care about women in sports… to really have a discussion and identify and promote the good parts of sport because there are so many good things that athletics can bring to our lives," said Monda.
About the Writer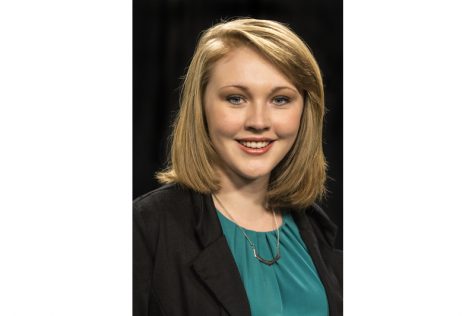 Hannah Smith, Social Media Manager
Hannah is a senior communication major with a concentration in journalism, who serves as the social media manager of RMU Sentry Media. She previously...