The Modern Movement
Throughout the month of February, individuals around the Nation will be celebrating in memoriam the history of the African-American community.
Robert Morris University has also joined this effort and created a month full of events with the purpose to "educate and bring awareness to the issues that the African American community have faced in the past and are still currently facing," said the Director of Multicultural Student Services, Antonio M. Quarterman.
RMU is hosting a large range of Black History Month events here on campus; they vary from soul food entrees, a free luncheon, a March on Nicholson and plenty more. Soul food entrees are offered at lunchtime in the cafeteria every Wednesday.
On February 8, dishes such as shrimp, hush puppies, baked chicken, sweet corn and beans and rice could be enjoyed. A luncheon will take place on February 15 to celebrate Black History. A speaker will be presenting the story of Pittsburgh's involvement in the Underground Railroad, according to Quarterman. About 50-75 people are expected to attend. Along with this event, the March on Nicholson, which is designed to imitate the famous March on Washington, is expected to have the biggest turnout, according to Quarterman.
Student organizations like the Black Student Union and the Black Male Excellence Network will work alongside with departments such as Residence Life, The Career Center, Multicultural Student Services, Student Life, Community Service and Civic Engagement to create these Black History Month events.
Quarterman said similar events have happened in past years at RMU: "Some of the events have happened from year to year, some are similar, but we also have a lot of different events this year in particular."
Other events that celebrate the month include a Hip Hop music party in the Cafeteria on February 24. Residence Life will be hosting this celebration of Hip Hop music and artists; the event will take place from 9-11 p.m. Soul Food entrees will also be served throughout the entire month of February at lunchtime on Wednesdays.
The Director of Multicultural Services, Antonio Quarterman, said it is especially important for college students to have opportunity to celebrate these events. "Part of the educational experience in college is getting familiar with yourself first-but also learning about other cultures and other people," said Quarterman. He also went on to explain that it is very rare for an individual to enter the world and never have to interact with those different than us.
"Part of what we want to do here is equip our students with the tools to not only have a basic knowledge about basic cultures but also to be able to explore different cultures of their own."
About the Writer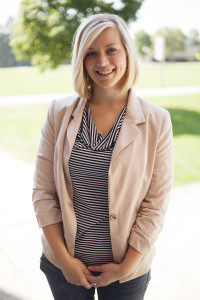 Leah Moose, Staff Member
A junior journalism major at Robert Morris University, Leah is a staff writer and photographer for the student-run newspaper, "The Sentry."

Additionally,...