Recycled art can be put to good use, sometimes in a creative way. A few students put together a wall of bottles at the entrance to the Wheatley Center, called the "Wheatley Wall."
Coordinated and produced by select students from Media Arts Professor Tim Hadfield's Foundation Studio II class, it will be available to view until the last week of January.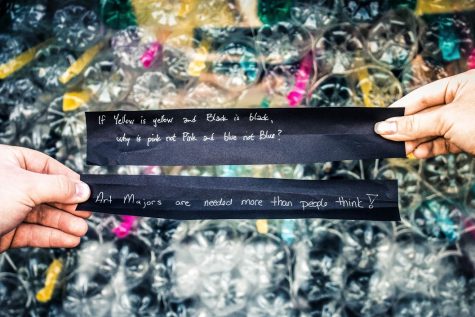 According to Sophomore Graphic Design student Tony Hanes on what brought about the idea to make a wall of bottles, he said, "My class and I, in Foundations Studio II, we wanted to design an installation art project that would be very interactive for the students here."
Story continues below advertisement
Including Hanes, the other students involved were Khalid Assiri, Katey Ladika, Amy Li, Shelby Mengel and Emma Smith.
In addition to the bottles, students can also leave messages for others to read on small slips of paper inside the bottles. On what that was about, Hanes said, "we decided to do so that people could open up, I guess, in an anonymous way. So that they can do anything that they fear, or anything that they feel, or even some advice for other students."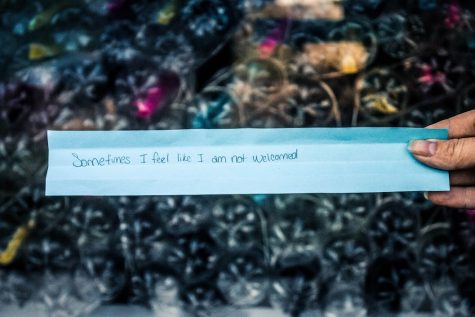 In an email interview, Hadfield said that the students were "attracted to re-purposing these bottles and the phrase 'message in a bottle' came to mind."
When asked about the idea of the bottled art coming together, Hadfield said that "the idea of the wall came after students had looked at the slides of installation art as it is known in the art world."
Also, Wheatley was chosen to "maximize the number of visitors that would see the installation at close quarters whilst keeping it out of the wind and the weather in general," according to Hadfield.
Cyber Forensics student, Balazs Mizda, gave his opinion on the art and said, "It was interesting, I liked it. I liked the sort of art using waste and creating something with it."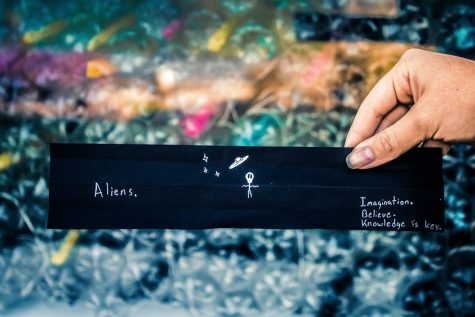 As for upcoming projects in the near future, Hanes said he "heard that my professor would like to keep doing things like this every semester for just because it's such a unique opportunity, I guess."
Creativity comes at a virtue and bottles captures attention. Again, if planning to see the wall of bottles anytime soon, it will be up until the end of the day on Jan. 27.