With a new school year, comes a new Residence Life Director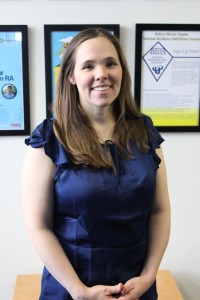 Anne Lahoda has been promoted to Director of the Office of Residence Life this year at Robert Morris University. The Office of Residence Life is the unit within the Division of Student Life that  is responsible for the on-campus  housing and residence life programs at the university.
Lahoda first started working on-campus as the Assistant Director of the Office of Residence Life in May 2011.  According to RMU's website, as the Assistant Director, Lahoda was responsible for managing the process by which continuing and new students select rooms, the roommate selection process, and all billing through the university's integrated system. She also worked in conjunction with the Office of Facilities Management and the Office of Public Safety to ensure a safe, clean, and well-maintained living and learning environment.
"When I found out that I was being promoted to director, I was pretty excited. I really enjoy working with the students here and being a part of this great institution," stated Lahoda.
As the director, Lahoda provides the overall management for the Office of Residence Life. She is responsible for making sure that students are safe, happy and comfortable with their housing arrangements.
"As the Director of the Office of Residence Life, I feel that it is important for me to create a sense of community with the residence halls in order to better serve and understand the needs of the students," said Lahoda.
When Anne was asked about what influenced her most in choosing to work at Robert Morris University, she replied, "I feel the students here at Robert Morris University are so driven and have a clear understanding of where they want to go in life. There is so much involvement in community service, athletics, and other great organizations which make this campus so unique and unlike any other institution."
Lahoda also mentioned that the main reason why she enjoys her job so much is because she feels like she is making a difference in the lives of the students here at Robert Morris University.
"I enjoy playing an important role in the students' lives, interacting with them, and developing connections. By assisting students with their living arrangements, I feel like I am also empowering students to get connected with one another and helping them develop lifelong friendships."