A day in a life: Staal drops by
There are approximately 15,000 people that can call themselves Pittsburgh Penguins season ticket holders. I am one of those lucky individuals. Of those 15,000 plus, I recently had an experience that most will never get.
Sept. 12, 2011 is a day that I, nor my family, will ever forget. Five days earlier, on the seventh, I received a phone call from my stepdad, who seemed quite excited. Upon picking up the other line, I was told that we had been selected by the team to have our tickets delivered personally to our house by a Penguin player.
My first reaction was disbelief. I was having a hard time coming to terms that we had actually been selected to participate in this fantastic promotion. The team began having players deliver season tickets five years ago, and for those past few seasons, I had always watched the online videos documenting the visits with envy. Not this season.
After five long days of waiting, the hour had finally arrived to head home. The ride back to Mt. Lebanon with my roommate and best friend, Jake Niehl, was one filled with excitement and anticipation. Just the thought of having a member of the team that we worship standing in my living room was almost unfathomable.
We arrived back home in the early afternoon, a couple of hours before our special guest was to arrive. Those hours were torturous; just sitting and waiting with an anticipation that I hadn't felt in a long while. Finally, at around 3:30, the phone rang. The public relations employee on the other line informed us that they would be arriving within 10 minutes. I, along with my mom, stepdad, Jake, and another one of my good friends, Peter Hric, were all in for a big surprise. The next 20 minutes were to become etched in my mind for eternity.
The black Cadillac sedan pulled into the driveway, along with two other cars for a writer and photographer that were following. Out of the Cadillac stepped a cameraman, who went to the other side of the car to capture the player exiting the vehicle. The next moment was probably my favorite of the entire afternoon. After five days of anticipation, the wait was over.
Out of the car stepped Selke Trophy finalist Jordan Staal. My mom's reaction was priceless.
"Oh it's Jordan Staal!" she screamed with excitement.
The towering forward, who is only 23 and certainly young enough to be my brother, immediately became part of the family. Not that I would expect anything less, but he was extremely down to earth, and very kind and gracious. He signed upwards of 20 items for us, including jerseys, pucks, posters, hats, and even a stick that my stepdad had just purchased on the way home. It just happened to be made by Bauer, the brand that Staal uses.
The six of us, along with the writer, cameraman, photographer, and public relations employee chatted about hockey of course, and also how grateful we were for this opportunity. The surprise as to who was going to step out of the vehicle was the standout moment for many of us.
Upon leaving, we thanked everyone once again, especially Jordan, for taking the time to stop by and bring our tickets. I'm not sure that he had any idea how much it meant to us. It's one thing when you meet a player after a game at the rink; you are in their environment, and the interaction isn't too personal. Having a player in your house for upwards of 20 minutes is a completely different experience.
The Pittsburgh Penguins are repeatedly ranked among the top teams in fan relations, not just in the NHL, but in all of sports. Our surreal experience with Jordan Staal is just another reason why they continually receive this accolade. This segment is titled a day in the life. This was undoubtedly one of the best of mine.
About the Writer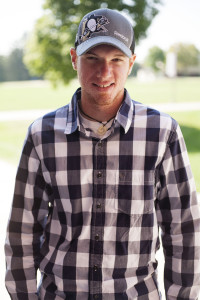 Brooks Bratten, Staff Writer
Brooks is a senior communication major with a concentration in sports journalism. He is currently the lead anchor on RMU-TV's Colonial SportsCenter (CSC),...