Wednesday evening, I had the great privilege of being invited to the Rooney House by RMU's esteemed Rooney Scholar, Dr. Nicolas Bogs. The occasion was the "Real Meal Reception" which is an exclusive dinner party hosted at the Rooney House every second Wednesday evening.
The "Real Meal Reception" had its genesis when RMU Swiss exchange student, Svenja Gaemperli, grew tired of constantly eating food from the cafeteria and learned to cook her own food. Dr. Nic offered his kitchen at the Rooney House to Gaemperli and some of her friends and thus the new tradition of the "Real Meal Reception" began.
"With a background as both an academic and a businessman, I've navigated worlds where relationships are key. Inspired by the passion and stories of students and colleagues, I saw a perfect opportunity to bridge these narratives through the shared joy of food. This vision transformed into the "Real Meal Reception" at Rooney House, a gathering place for culinary and global connection," Dr. Bogs said regarding his role in bringing all this to fruition.
When I asked Gaemperli to elaborate on the importance of this newfound tradition she said, "The interaction and conversations helped me to understand and adapt to the local college life and also to be open for change. I love cooking and it reminds me of home because I cook a lot with my family and friends in Switzerland. I am a people person, so I enjoy just being with people, talking, and having a good time. I always look forward to every second Wednesday."
Story continues below advertisement
Present at the event Wednesday evening in addition to myself, were Dr. Bogs and Gaemperli of course, as well as RMU Homecoming Queen Allison Ezbiansky, Homecoming court member Clayton Pfeifer, Daphne Creamer, and documentary filmmaker Kevin Schreck. It was a great group of individuals to be in the presence of and much intelligent conversation ensued.
The "Real Meal Reception" is a hands-on experience where everyone actively participates in the preparation of the evening's cuisine. Dr. Bogs and Mr. Schreck made the salad. The main dish that was prepared on Wednesday evening by Gaemperli, Allison, and Clayton was Flammkuchen, which is comprised of bread rolled out very thinly in the shape of a rectangle or oval and covered with French white cheese or creme fraiche. It can essentially be described as German pizza.
Daphne and I helped to prepare the dessert which was mascarpone with berries. Mascarpone is an Italian cream cheese dessert. Aside from my former job at Pizza Hut, attending the "Real Meal Reception" was the most experience I've ever had with food preparation. Learning some more culinary skills is definitely something I need to look into for the future.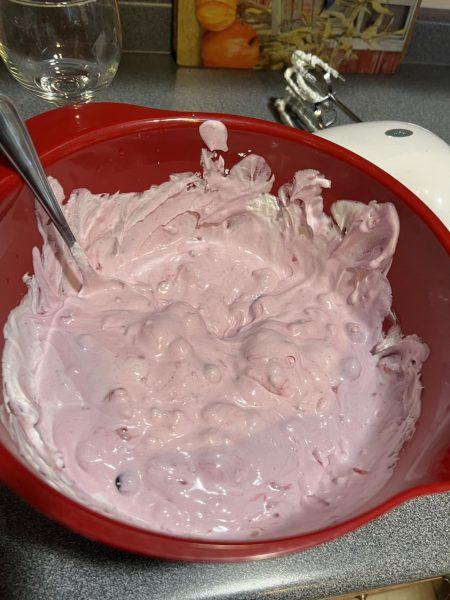 The meal was held by candlelight which created a very charming and sophisticated atmosphere. A variety of wines were tasted and enjoyed, as everyone in attendance was of legal age to drink alcohol.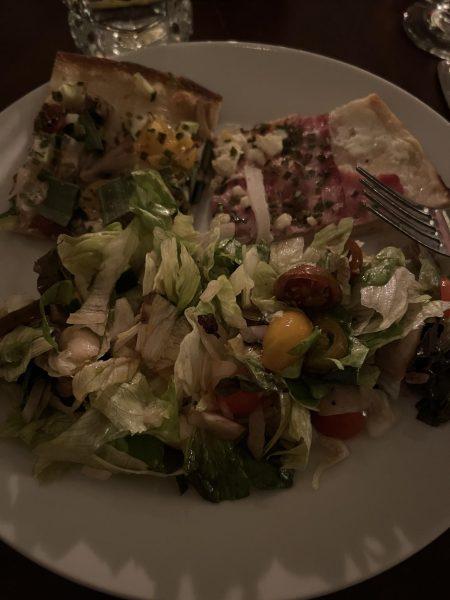 Mr. Schreck discussed his liking for British comedy and other surreal and absurdist comedy acts. He also discussed his experiences traveling and filmmaking. The topic of traveling was one of the predominant discussions during the evening. We also discussed our plans for our lives after college and received advice on how to navigate the challenges of the world from Dr. Bogs and Mr. Schreck.
My favorite conversation I had was on the differences between American and European cultures. Dr. Bogs explained how Americans can be very close with someone, then go their separate ways, and then when they see the person again a few years later they pick right up where they left off.
Dr. Bogs said that Germans and other Europeans expect to keep in touch much more consistently with an acquaintance or close friend after they go their separate ways. I never realized this before but upon hearing it from a different perspective it absolutely rings true. Dr. Bogs elaborated on how he experienced this with some of the people he met while he was a foreign exchange student at Butler High School in 1984.
I thoroughly enjoyed my experience at the "Real Meal Reception", and I would be honored to attend again. The "Real Meal Reception" is a truly special and mind-expanding event to be involved in. I would like to thank Dr. Bogs for his hospitality in inviting me.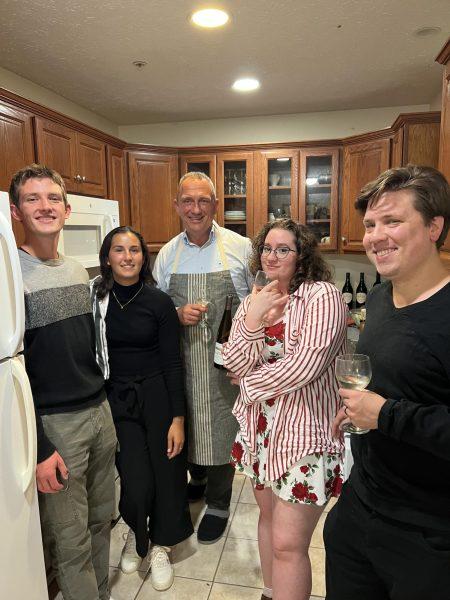 (Unfortunately, Allison left before the pictures were taken.)