Collegiate interior design: Stripper pole?
The residents of Washington C4 had a living room design that impressed everybody with its uniqueness. A disco ball, flashing lights, strobe light and stripper pole made the room look like a night club. However, the Office of Residence Life banned this design idea.
Residents in the suite soon received an e-mail from an area coordinator of Residence Life, Mindy Somerville. Somerville wrote to the residents that the stripper pole "must be removed immediately." Stating that "this is not safe for use in the halls." Somerville also mentioned that the Resident Assistant is going to come the next day and check if the stripper pole is still in the living room, and, if it is, all the suite residents will "be held accountable through the student conduct process."
"The school thinks that if people will get hurt [dancing on a stripper pole], they can sue RMU," said one of the suite residents, Bethany Ledford. However, she claims that an injury would be the fault of those who were dancing.
Lauren Sulkowski, who also lives in suite C4, explains her opinion of the possible dangers of having a stripper pole: "It is the same as if somebody would jump out of bed and would get hurt."
The majority of girls split the price of the stripper pole and were highly upset with the fact that they were not allowed to have it in their living room.
Another resident of the suite, sophomore Tara van Schie said: "Yeah, of course. We bought it. We paid money for that."
"I'm upset about it," says Track and Field suite resident, Aubree Ray, "because we've paid for that and we owned it, and it was a lot of fun.
Ray also says that she did not dance on a stripper pole because she knows her "own limits" and is responsible for herself.
According to the girls, the purpose of the stripper pole was solely decorative. They did not intend to offend anybody or get hurt.
About the Writer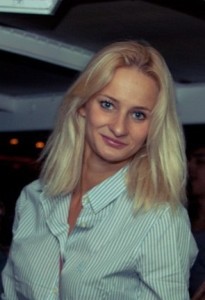 Yulia Vasilyeva, Assistant Ad Manager
Yulia Vasilyeva is a junior at RMU majoring in journalism and advertising.

Yulia is the assistant advertising manager and a staff writer for "The Sentry".

She...