Disney world: a place to go!
As my friends and I were waiting on the 6:15 a.m. bus to Orlando, we could not stop thinking about the excitement that awaited us in Disney World. Visiting Disney World was one of my childhood dreams, and I was finally going.
Even at my age, I found everything at Disney World impressive, so I can't even imagine how a child feels when they visit this place. Believe me, if you have ever watched a Disney cartoon, which I am sure you have, you would love Disney.
I was amazed when I learned that Disney World covers 47 square-miles of land. There are four theme parks and two water parks that visitors definitely would enjoy. There are campgrounds, villas, resorts and four types of hotels where you can stay during your visit. The Downtown Disney area, Disney Board Walk, ESPN Wide World of Sport Complex, Cirque du Soleil, and Walt Disney World Orlando Resort Golf are the nicest places where you can spend your time. Lastly, you will find a bunch of restaurants, shopping and entertaining places to go.
Disney World is too vast to see in one day. That's why my friends and I only went to the Magic Kingdom theme park.
The magic began right after we parked our car. We saw a lot of local "wonders," including the ugly stepsisters from "Cinderella" or singing Dwarves from "Snow White".
A lot of kids walking around the famous Disney castle, the monuments, the huge ship that transported people, the funny pathways and other interesting things maintained that fairy tale mood.
As you are reading this article, I want you to feel the experience that I had. Let's talk about this place in more detail.
There are 35 attractions in Magic Kingdom. They are so popular that next to each attraction, there is a device indicating how long you may be waiting in line, which sometimes is over 200 minutes.
Some attractions have a certain cartoon theme, but attractions such as the Main Street Electrical Parade and Wishes Nighttime Spectacular don't.
During our time there, we went on Snow White's Scary Adventures, which was more cute and adorable than scary for 18-23 year-olds.
My favorite ride is the Haunted Mansion, which is a large castle where you can relax on a big comfortable armchair and enjoy the ghosts' parties. We also went on a lot of other attractions, but those two were the most memorable.
Magic Kingdom attractions are so much fun, but there is a lot of other stuff you can enjoy there.
The Parade of Disney heroes that we were lucky to watch, was amazing. Waiving and smiling to everybody from the crowd, almost all of the characters went through the big square in the middle of the park.
If you like shopping, there are a bunch of stores for you with so many souvenirs and useful things that will make your friends and family happy.
Because Disney World is a magical place, even the restaurants are different, not only in appearance but also in food and services. For instance, where else can you enjoy a burger shaped as a Mickey Mouse head or eat meat that looks exactly like the meat from a cartoon?
Overall, my experience at Disney World was truly magical. There's so much to see I would love to visit again,
About the Contributor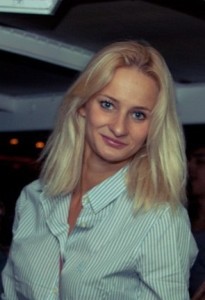 Yulia Vasilyeva, Assistant Ad Manager
Yulia Vasilyeva is a junior at RMU majoring in journalism and advertising.

Yulia is the assistant advertising manager and a staff writer for "The Sentry".

She...