A family affair: Joslins living the high-caliber hockey life
Jamie Joslin is arguably one of the top Robert Morris women's hockey players to don an RMU sweater in the program's seven year history.  With her active defensive style, which includes eye-catching physicality and dramatic blocks, Joslin is quite the spectacle on the ice, and although she could surely list a host of hockey influences, the one that nears the top of her list is her brother Derek.  While many players can mention an older sibling as factor in their hockey journey, few can say that their sibling is an active player in the National Hockey League.
"He's the whole reason why I started playing hockey in the first place. I would always go to his games and I was just so in awe of the game and wanted to play myself," Joslin said.  "We play the same position, so he's been there helping me, giving me tons of tips, all growing up through the sport and he's helped me play to the best of my ability and has helped me so much skill-wise, too."
Beginning in 2003, Derek, who is four years older than Jamie, played in the Ontario Hockey League before being drafted 149th overall by the San Jose Sharks in 2005.  Derek officially signed with the Sharks one year later then had a stint with their AHL affiliate, the Worcester Sharks, before seeing NHL action in 2009.  In 2011, he was traded to the Carolina Hurricanes, but currently, skates for the Chicago Wolves, the Vancouver Canucks minor league affiliate.
Jamie's father, Jeff Joslin also had quite the hockey career.  Jeff, who was drafted by the OHL's Peterborough Petes, faced off against the likes of Wayne Gretzky, Danny Savard, Paul Coffey, and Adam Oates.
"Along with my brother, my dad has coached both of us all the way growing up when we were younger, so my dad's also a huge influence to us both and is a big reason why we're both where we are today," Jamie said of her father.
Jeff said his children's love for hockey sprouted at a very young age.
"When they were both three years old, we bought them their first pair of skates and took them to these outdoor rinks, ponds actually.  Derek's first time on skates, when he fell, he didn't like it too much," he said with a chuckle.  "It took me a little bit to get him back up and get him going.  But Jamie, she took off as soon as we put the skates on her.  She just started going, pushing the chair, and if she fell she got right back up and was determined."
After seeing the pair's love for ice skating, the Joslins made the first decision of each sibling's hockey career.  Each of them learned to skate and the age of three, and later at the age of four, they were enrolled in a CanSkate program, which is used to sharpen skating skills.  After completing the CanSkate program, each of the budding players picked up a stick.
Since Derek became a serious athlete at a young age, one has reason to believe that Jamie was the same way, but Mr. Joslis explained otherwise.
"She didn't really work hard or train individual sports until later.  But high school sports just came natural and she excelled at them.  As far as feeding off each other, Jamie didn't feed off her brother until she got to probably midget level, and [then] she [started] to see girls a couple years older than her that are getting scholarships to the U.S. schools and somewhere playing in Canadian universities," explained Jeff.  "We had gotten a personal trainer for Derek when he was bantam age, because that's what he wanted.  Just out of the blue one summer, Jamie's first year of midgets she asked if she could work out with Derek and his trainer, and we said 'yeah'."
It was from that point on that Jamie sent hockey to the top of her list of priorities and began to match the habits of her brother.
Even today, the similarities between the CHA-er and the NHL-er are uncanny.  First of all, they are nearly identical, despite the four year age difference.  Second, it is difficult to tell them apart on the ice.
"Everyone who knows us both and has seen us both play is just in shock of just how much alike we are on the ice.  I mean, we look a lot alike off the ice, so on the ice, our styles are apparently very similar.  Like, our skating styles, the way we shoot, everything about us," said Jamie.  "So, it's kind of neat that way.  Like I said, he's helped me develop as a player, so a lot of his skills go into mine."
Not only does the pair learn from each other in terms of hockey, but also in terms of character.
"He's very similar to me.  He likes to joke around, he's kind of the prankster of his team and sometimes I can be with our team.  He's a very polite, outgoing guy. On the ice, he's competitive and off the ice, he kind of shuts that off and is a very welcoming guy," described Jamie.
For some, growing older means growing apart from those they look up to.  For Jamie Joslin, that is certainly not the case.
"There is a four year age difference between us, but we've always been super close.  It's just the two of us, and we just grew up and we were both athletic growing up so we always went to each other's games and just have always hung around each other, so we're pretty close, even though today we're really far apart, we still keep in touch."
"They're pretty tight, even though they're miles apart, and Derek hasn't been home basically since he was 16," agrees Jeff.  "When they come home in the summer, they hang out together now.  They're very close even though they're far apart and don't get to see each other a lot.  When they're together, they don't talk about hockey, they talk about everything but."
Hockey seems to be an ever-present, yet unspoken theme in the Joslin household.  Each family member harbors a certain brand of pride within them.
"We were all ecstatic," recalls Jamie of the moment Derek was drafted.  "Even to this day, I'm still in shock of how much he's accomplished and where he is.  I get asked all the time, 'Oh my God, your brother's in the NHL?  Isn't that so cool?'  And it is very cool.  I've met a lot of cool people that he's played with, but it's still a shock and our whole family is obviously so proud."
"Mrs. Joslin and I pinch ourselves every day knowing we have raised two elite athletes.  Both of us growing up, we were both athletic ourselves.  I'm the oldest of three brothers, and we all played high level hockey, so hockey has been in our family since day one," shined Jeff.  "When Jamie and Derek came along, and just carried on, it's almost routine.  It's in our blood, but with Jamie and Derek getting to where they've got too, it's pretty exciting, to say the least.  Right now, pretty much every weekend Jamie's mom and I travel either to see her or to see Derek wherever he's playing at the time to catch some hockey.  It's pretty exciting for sure."
"He's very humble about it and he just keeps pushing and pushing," said Jamie of her brother's career.  "He's been traded a few times, already, and he's only 25, so he's still pretty young in his career, but he is honestly one of the hardest working people I've ever met.
About the Writer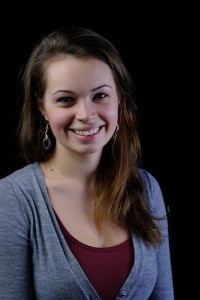 Haley Sawyer, Assistant Sports Editor
Haley is a junior communication major with a concentration in journalism.  She is involved in both print and broadcast journalism at the Academic Media...