BREAKING NEWS: Marcquise Reed granted release from RMU
After impressing a lot of people during his freshman season by averaging 15.1 points per game, Marcquise Reed's request to be released from the Robert Morris men's basketball program has been approved, according to Marcus Helton, the editor-in-chief of DMVelite.com.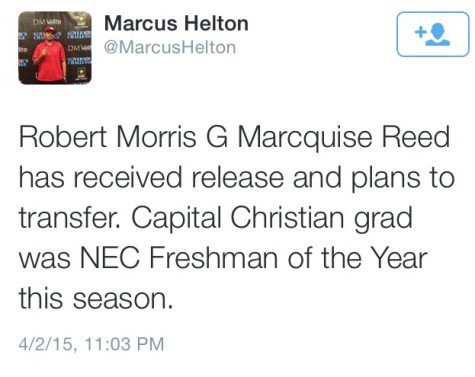 As a result, the six-foot-three guard will presumably transfer to a much larger program in order to receive more exposure on a national stage, though he will have to sit out a year due to the NCAA's current policy.
Even without Reed, highly touted recruit Matty McConnell of Chartiers Valley, who averaged 29.4 points per game during his senior year of high school, should be a suitable replacement for the Northeast Conference Player of the Year.
Regardless, it shouldn't be that big of a loss for the Colonials since Andy Toole and his staff regularly sign junior college players who blossom into stars, such as Karvel Anderson and Rodney Pryor, a finalist for the 2015 Riley Wallace Award, which is given to the top Division I transfer by CollegeInsider.com.