Colonials end two-game skid with win over CCSU
It was a great day for the Colonial Nation, on and off the court. There was an official announcement for the new UPMC Events Center that should be completed within the next year. Also, a press conference was held to not only official comment on the events center but to also announce that coach Andy Toole has received a one-year extension on his contract. This extension will take him through the end of the 2020-21 season.
For the two games prior to this one against the Central Connecticut Blue Devils, the Colonials were held under 60 points. Both of those games ended with a loss but today they completely reversed their fortune. They beat the Blue Devils by a score of 74-67 to increase their season win total to seven. It's worth noting that Isaiah Still did not play in this game due to an injury.
All went well for the Colonials on the court. From the very beginning, their grip on the game was iron clad. From the tip, RMU gained a lead and never relinquished it as they led for the entire contest.
Of the nine Colonials that played in the first half, eight of them scored at least once. Dachon Burke, who started for the third straight time, led the way with seven first-half points on 3-of-4 shooting. Burke ended the game with 11 points.
Without Isaiah Still in the lineup, Kavon Stewart found himself having to carry some of Still's missing workload. Stewart tied his season high with 21 points while adding six assists and five rebounds; all of which came in 34 minutes of action. His stat sheet surely was stuffed as he was even able to come up with two steals. In his last 14 games, Stewart has scored in double-digits 11 times. His season average now sits at 11.3 points per game.
Matty McConnell, who has found his rhythm as of late, took all eight of his shot attempts from behind the arc. He was able to connect on four of them, ending his night with 12 points. His made threes were all made possible with terrific perimeter play. The Colonials were able to execute the drive-and-kick style of basketball to its fullest extent. Coach Toole was specifically impressed with his team's unselfishness.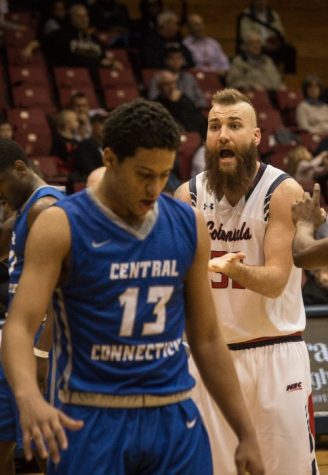 "Something we've been preaching is to keep moving the ball. Tonight I thought we really did that and got good looks."
The Colonials were connecting on all cylinders and hitting from inside and out. A big factor in their inside success was the play of Aaron Tate. He was only one rebound away from yet another double-double. Normally a streaky free-throw shooter, Tate hit all four of his free throw attempts.
"We shot the ball well from three than we have this season by far. Tate really stepped up offensively and gave us life."
Robert Morris will have one last home game against Bryant on January 21st before heading on a four-game road trip.