Colonials fall short to Duquesne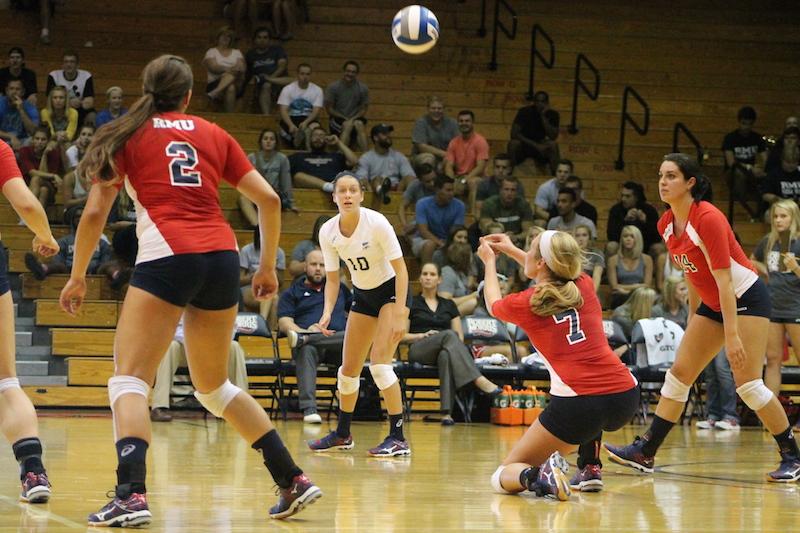 Samuel Anthony
September 1, 2015
In a Tuesday night battle between inner-city rivals, Robert Morris fell short the Duquesne Dukes three sets to one in a match-up that was far closer than the score suggests.
After falling behind 11-6 at the beginning of the first set, behind yet another stellar performance from Arden Fisher and the return of lone senior Kristin Thompson, the Colonials managed to rally and convincingly win the first set 25-21. It appeared that the momentum was in favor of RMU.
But it was the Dukes who came back firing in the second set. With the help of some key errors from Robert Morris, Duquesne, at one point, was up 19-12 before finishing off the set 25-18 to even the score going into the break.
The Colonials would go on to lose the third set despite winning six of the first seven points. They were never able to create a solid lead and allowed the Dukes to rally and squeeze out a 25-23 set victory.
It seemed a trend from the match was that the Colonials were never able to win the key momentum points to solidify a strong set lead. Leaving the door open for another rally in the fourth set, RMU would again fall 25-23 to lose three sets to one, unable to force a fifth and final set.
In the end, the story of the game was the mistakes made by this very young Colonials team who still has a lot to learn.
"There was a lot of mental mistakes out there," said head coach Dale Starr. "We had people out of position…who were trying to do somebody else's job and not their own."
"There were a lot of discipline issues that need to be addressed," finished Starr, who clearly knows that his team is capable of much more.
With all the youth that is present in this team, the one positive note is the return of senior Kristin Thompson, whose presence was seen behind that of Fisher with nine kills, two blocks and two digs, which provided some more consistency to the Colonial squad. But there was still some signs of rust that come with time missed.
"Offensively she had a good game," said Starr. "Defensively she made some mistakes and part of that is due to the injury." Nonetheless, it is a good sign for the RMU team to see their leader back in action leading by example as a symbol of consistency for a team whose two losses this season have come at the hands of their own mistakes.
Robert Morris will now begin their almost month long road trip which includes trips to The Bronx, N.M., Texas and Ohio before for the conference season begins and the Colonials try to earn their spot in the NCAA tournament. Until then, the goal of the team is to stay healthy and improve so that they can take the NEC championship home to Moon.