Colonials rally falls short to MTSU
In the first game of the RMU Invitational tournament, the Robert Morris women's volleyball team fought back from a 2-0 deficit, but couldn't complete the comeback, falling 3 sets to 2.
Middle Tennessee (4-8) came out weak in the first set, giving RMU a 5-0 early lead.
The Blue Raiders pushed back though and tied the set at 15-15. Both teams traded points until Middle Tennessee went on a 4-point run. Middle Tennessee won the set 25-22.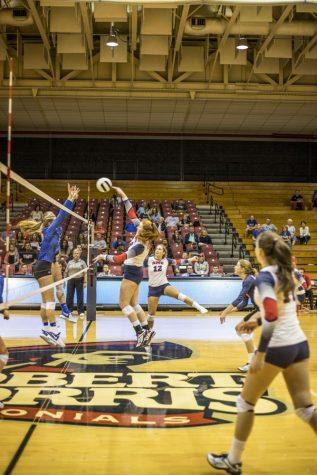 In the second set, early errors by the Colonials put the Blue Raiders in the driver's seat. Just as Middle Tennessee had done though, Robert Morris battled back to tie the set. The set would remain tied up to 23-23 until Middle Tennessee scored two consecutive points to take the second set 25-23.
"These kids got in a situation where we had a team that plays a little bit faster than us," coach Dale Starr said. "We panicked a little bit."
The young Colonial team battled back through the next two sets.
Freshman Emma Granger led RMU with 19.5 total points and 13 kills. Robert Morris came out strong in the third set and won decisively 25-20.
The Colonials matched the score with another 25-20 win in the fourth set behind strong play from junior Taylor Lord. RMU eliminated many of the errors that littered the first two sets.
"We stopped hitting the ball out of bounds and we controlled our serving game a lot better," coach Starr said. "We trusted our game in sets three and four."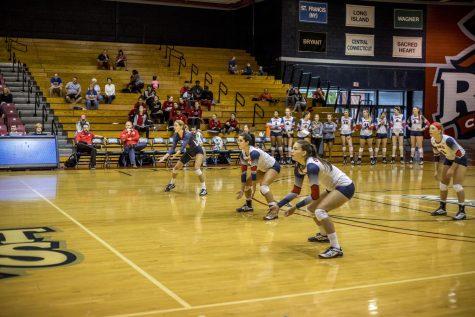 The momentum did not carry over into the fifth set, though, as the Colonials lost the set and the game decisively, 15-7. The Colonials committed a plethora of errors that put them in a 10-3 hole.
RMU mounted a small comeback but couldn't rally as Middle Tennessee picked up the game win, three sets to two.
"Set five. we went right back to panicking and we didn't trust our game," said Starr. "We were a little too jacked up," Starr said. "We are definitely trying to grow and trying to learn."
With the win, Middle Tennesee improves to 4-8. With the loss, Robert Morris falls to 5-8.
The Colonials are back in action at 6:30 p.m. against Penn and tomorrow against Rutgers at 12:30 p.m. At the conclusion of the RMU Invitational, the team will move out of Sewall Center and into the new Student Recreation and Fitness Center, where volleyball games will be held until the opening of the UPMC event center.