Fanck's first career goal lifts Colonials to first victory of the season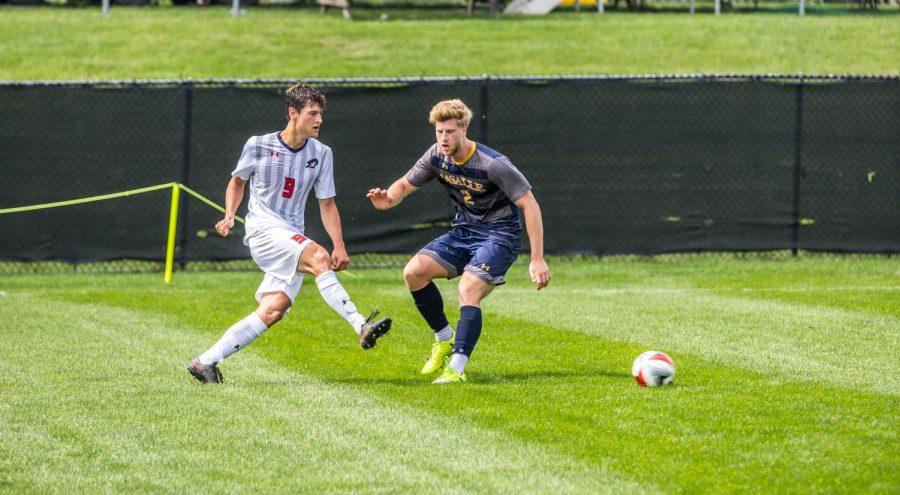 Samuel Anthony, Digital Content Manager
September 15, 2018
Moon Townsip, PA — The Robert Morris Colonials (1-5-1) shut down the La Salle Explorers (2-5) and battled their way to their very first win of the season as they narrowly defeated the Explorers 1-0.

The offense was a commodity that was hard to find in this matchup as both teams came into the day averaging less than one goal per game.

For Robert Morris, scoring would be even more difficult with their leading scorer Zac Sherman suspended for the match due to the red card he earned against the Bucknell Bison.

The first half came with little action from the offensive end as both teams combined for 10 shots in the first half with the Colonials outshooting the Explorers 6-4.

The lack of offense was replaced by stout defensive play and physicality on both ends. Both teams combined for a total of 15 fouls in the first half alone but no cards were handed out.

The Explorers' first-half shutout came at the hands of freshman goalkeeper Brent Werner, who was making his first career start and appearance for La Salle.

Werner went toe to toe with RMU senior Winter Fondi, who also had an impressive first half. Fondi's most notable moment of the half came in the 26th minute as he leaped to catch a shot off of the foot of Pat McCarthy.

But the story of the game was the goal from

, the junior from the Rio Grande do Sul, Brazil, who sent a skipping shot with his left foot just past the reach of the goalkeeper into the bottom right corner of the net to put the Colonials on the board.

His goal in the 56th minute of the game gave RMU the chance to earn their first victory of the season.

La Salle would do their best to respond to Fanck's goal as the Explorers had plenty of opportunities to score, taking four corner kicks and a plethora of free kicks to go with it. But with those opportunities came a failure to get any shots on net.

The Robert Morris defense, highlighted by the strong play by Oeyvind Skjesol, cleared the box of every dangerous opportunity while constantly frustrating the Explorers offense.

RMU goalkeeper Winter Fondi had very little work to do in the second half, recording just one save. Fondi would make that one save as the clock was winding down at the end of the game with 2:03 remaining on the clock.

Fondi would earn the clean sheet, his second of the season.

With the victory, the Colonials will look to their final two non-conference games to gain some momentum going into the conference season as their first conference game comes in less than two weeks when the Colonials battle the Bryant Bulldogs on Sept. 28.

The next match for the Colonials will be a short road trip to Duquesne on Sept. 19.