Colonials tame Tigers to continue hot start
Hang on for a minute...we're trying to find some more stories you might like.
On Friday night, the Colonials managed to take down RIT 6-3. The Tigers came roaring back on Saturday, but the Robert Morris men's hockey team prevailed 4-2 to take the weekend sweep and improve its program-best start to 7-0-1.
After a sedentary first eight minutes, Zac Lynch notched the first goal of the night from the edge of the faceoff circle to the left of RIT goaltender Mike Rotolo. The Tigers bit back with a goal of their own three minutes later. Garrett McMullen wheeled coast to coast, centered the puck, then sent a shot flying past Dalton Izyk.
RIT dominated their attacking zone, outshooting RMU 18-12 to give the home defense a run for their money. They whisked the puck from the net, blocked shots and applied pressure.
When the second period commenced, everything changed. By the end of the tenure, the Colonials improved from a six shot differential to a 23, in their favor.
"We really picked it up in the second and third," said Zach Lynch. "Sometimes you come out a little cocky and try a couple plays you shouldn't. When we get down to it we just play basic hockey and out skill takes over."
Frustration continued to build for RIT.
"Once we get moving it's hard for teams to keep up with us. They try and bring us down a level by trying to drag us into the rough stuff," said defenseman Tyson Wilson. "I think last night we got sucked in a bit and couldn't get it going, but tonight we stayed away from it and it helped us a lot."
The Colonials had a slew of special teams opportunities, including a four-on-four and four-on-three in their favor. Despite a few promising attempts, they were unable to capitalize on any of them. RMU appeared to score once, but the goal would be called back due to a dislodged net.
"Last night we had some opportunities to shoot and we weren't shooting so tonight we had a good net presence," said Wilson, who had five shots in the contest. "We're trying to get pucks through and then crash and bang."
Brady Ferguson grabbed his fourth goal of the season at 16:18 to break the scoring silence. The freshman wrangled the puck for a wraparound before chipping it up to the top corner of the net.
Three more goals were scored in the final frame; the first two from the Colonials and the last from the Tigers. Cody Wydo extended his point streak when he grabbed the puck in the corner and passed it to Lynch who slipped it between defensemen for his second goal of the night.
Timmy Moore scored his first goal as a Colonial when he shoved the puck through scattered defensemen with eight minutes remaining. Danny Smith scored the final goal of the matchup with a slapshot from the point that went up and over Izyk.
The Colonials have a bye next weekend before resuming play on Nov. 4 against Air Force.
"We're rolling right now," said Lynch. "It'll be nice to keep the ball rolling but it's a good time for a rest. A lot of guys need it."

About the Writer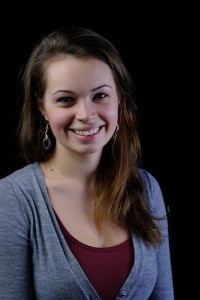 Haley Sawyer, Assistant Sports Editor
Haley is a junior communication major with a concentration in journalism.  She is involved in both print and broadcast journalism at the Academic Media...