Colonials keep rolling
Robert Morris University founded its women's ice hockey team back in the 2004-2005 season under the direction of Jody Katz. In its 12 years, the program has seen four coaches, an Olympian and multiple shattered records.
In 2012, it played the role of David when it upset the Goliath of the CHA, Mercyhurst, to win its first ever conference title.
This year's Colonials are determined to add to that legacy. This season is one for university record books. Under head coach Paul Colontino, RMU is on pace to finish No. 1 in Conference Hockey America and potentially receive a bid to the NCAA tournament for the first time in history.
This 12-year journey has been slow and tedious. However, RMU has faithfully stuck to what Colontino calls "Colonial Hockey." This is their mentality of "emptying the tank" every period, and walking away with no regrets.
Colontino feels this system is the key to their success.
"Absolutely," said Colontino when asked if he was confident in his team's consistent style of play. "Before Christmas break, they were able to play consistent 60 minutes of hockey… Coming back we got back on that pace. (This) is the style, the brand of Colonial Hockey that we're looking for."
The Colonials have steadily improved since their exhibition match back on Sept. 23. Since then, they have brought their regular season record to 16-2-6. This is just eight wins off of their most winning-est season.
Along with this impressive season record comes an exceptional conference record. At 9-1-2, Robert Morris sits atop of the CHA. They are two points ahead of No. 2 Syracuse and 11 points ahead of No. 4 and defending CHA champions Mercyhurst.
If Robert Morris can retain its ranking, it will finish first in the CHA for the first time in club history, a monumental feat for the program and a testament to its Colonial Hockey system.
Not only that, but if RMU manages to win the conference postseason tournament, it will receive and automatic bid to the NCAA Women's Ice Hockey Tournament. This is yet another historic feat for the team. The Colonials currently sit in seventh place in the country, and are in position to make this dream a reality.
Colonial Hockey isn't the only thing that has gotten them this far, however. It's the players who live by this system that have made this a year to remember.
Goaltenders Lauren Bailey and Jessica Dodds have combined for an impressive 16 wins this season. While many were skeptical of alternating the two on a consistent basis, the system has worked well for the Colonials.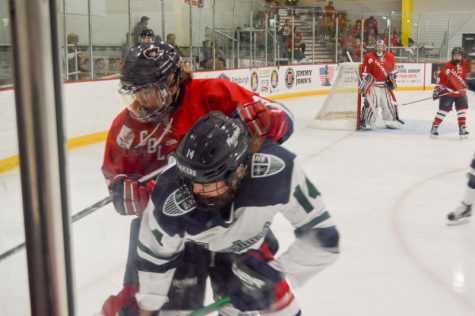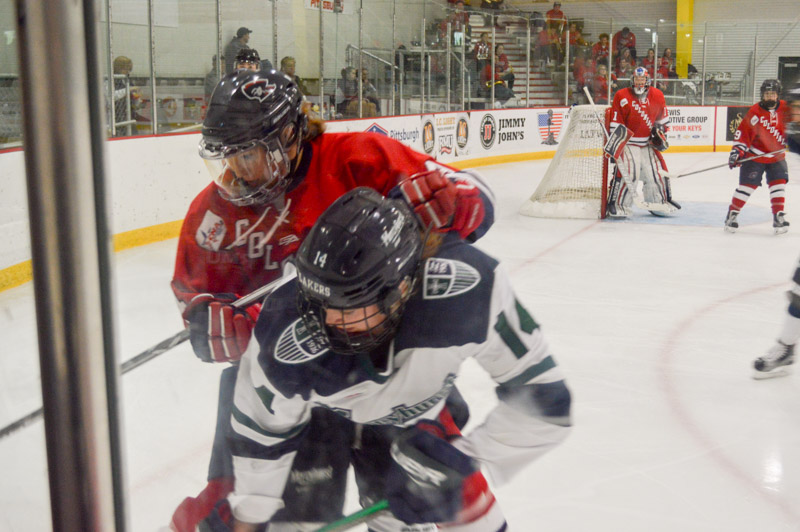 Protecting Bailey and Dodds are defensemen Kirsten Welsh, Maggie LaGue and Katherine Murphy. All three have boasted impressive numbers this season, showing their versatility on the ice.
Welsh and LaGue have eight goals each, and Murphy has 13 assists.
While senior captain Rikki Meilleur may not be racking up the points, she is earning some much deserved respect. The forward suffered a bought of cancer in December and worked to return to the ice in January after a short hiatus. Competitors and teammates alike were relieved to see her back in the lineup.
"She's such a strong presence in the locker room and on the ice," said Colontino on Meilleur's return. "You can't help but look at Rikki and what she's doing and be inspired. That's why she's our captain."
"Rikki's awesome," said Lauren Bailey. "Her leadership is a big part of our success this season."
Meilleur also used her experience as a chance to give back to the community.
Along with hosting Skate for the Cure, which benefits the Pink Steel Dragon Boating Club and breast cancer survivors, the Colonials hosted the Teddy Bear Toss a few weeks ago. RMU collected over 400 bears to distribute to pediatric cancer patients at UPMC Children's Hospital of Pittsburgh.
"We normally do a fundraiser called Skate for the Cure this weekend, and this year we took the initiative to start a teddy bear toss to support the cancer patients at Children's Hospital," explained Meilleur. "I went through a bit of cancer myself, and my roommate and I wanted to do something for the children who are unfortunately are still battling to lift their spirits up."
Freshman forward Jaycee Gebhard has wasted no time in leaving her mark on the world of college hockey. She is currently tied for second in the NCAA in power play goals with six. Gebhard has 15 goals and 18 assists for a total of 33 points this season.
The real star of the show, however, is undeniably redshirt junior forward Brittany Howard. A member of the Colonials' top line and power play unit, she has a total of 39 points on the 2016-17 season — which is good for second best in the country.
Howard also claimed the club title for most career assists with an assist to linemate Amber Rennie. She currently has 72 assists.
Additionally, Howard's line, comprised of herself, Gebhard and the sophomore forward Rennie has become the foundation of the Colonials' offense.
"When you can count on a line to perform night in and night out and contribute offensively, it's huge," said Colontino of the Howard, Gebhard, Rennie line. "Not only do they help our team in terms of production, they help our team with the type of work ethic that it takes to produce at that level."
"It's just communication," explained Rennie. "We're always talking to each other and letting each other know where we are. We try to make the best of every opportunity."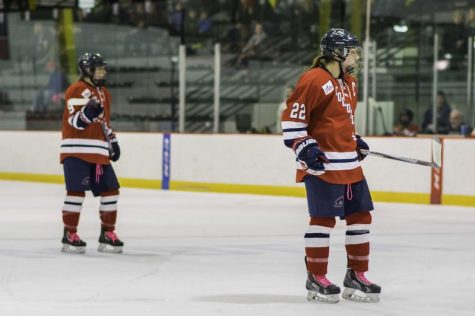 It has taken 12 years, but the Colonials are finally getting where they want to be. Since his arrival in Moon Township in 2011, coach Colontino's goal for this team has always been to move to the next level. With the passion, dedication and commitment that Colonial Nation has already seen out of the team this season, it's safe to say that RMU is on the right track.
"What we've worked for over the past six years is to elevate the program and keep elevating it," said Colontino. "Our motto is 'You're as good as your last game,' and we have to take it one day at a time. Our players respond with that mentality and we (are) successful. We need to play our brand of hockey at the level we're capable of.
"When we do that, we put ourselves in a position to be successful."
Robert Morris won't be taking any chances for the remainder of this season, though. The game plan is to attack every game like the season depends on it and play its fast, controlled and physical brand of hockey that has led to this success.
"We need to find a way to get better every night," said Colontino. "Whether you're winning or losing you can't stay static. As a unit, as a group, as a team, we need to get better every weekend."
The Colonials will continue their journey to the Frozen Four at Syracuse for a weekend series on Jan. 27-28.