Derek Schooley extended through 2022-23 season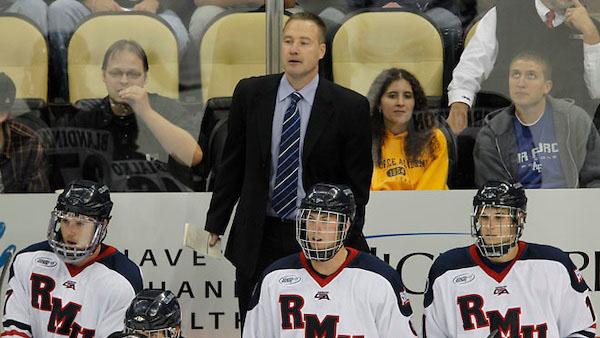 Ian Kist, Assistant Sports Manager
August 22, 2017
Robert Morris University head men's hockey coach Derek Schooley has signed a three-year contract extension that will go through the 2022-2023 season.
The school announced the extension Tuesday in a news release.
The upcoming season will be Schooley's 14th at the helm of the program, as 2004-05 was the first season in program history.
Schooley has been the only head coach of the RMU hockey program, holding a 213-205-58 record. He will use this extension to continue to build the program, which holds a 6-2-1 record against ranked opponents the past two seasons.
Schooley was also named the 2014-15 Atlantic Hockey Coach of the Year and will now have more time to build his program to higher standards.
"My family and I would like to thank Robert Morris University President Dr. Chris Howard and Dr. Craig Coleman for the confidence that they have shown in me and direction of the Colonial Hockey program," Schooley said in the release. "We could not have done it without the dedication of great staff members, players, and alumni. I look forward to continuing the success we have built over the past 13 seasons."
Athletic Director Dr. Craig Coleman believes the extension was the best move in order to further the program's growth and success.  
"As the founding coach of our men's hockey program, he continues to push the program to greater heights, and the sky is the limit," said Coleman.
The Colonials look to continue their recent success as they kick off their 2017-2018 season late in September, which features high-profile games against Ohio State and Penn State — the Three Rivers Classic is slated for Dec. 29 and 30.