Despite 50th win, Colontino keeps mind on big picture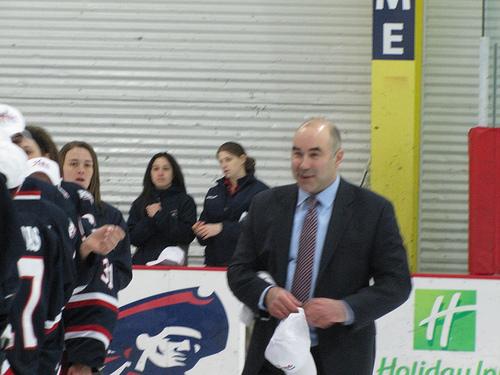 In June 2011, Paul Colontino was hired as the head coach of the women's ice hockey team at Robert Morris University and just two and a half seasons later, he reached a career milestone.
After a 4-2 victory against the RIT Tigers on December 7, Colontino achieved his 50th career win at RMU.
"I guess about in about two and a half years, 50 wins divided by two and a half is kind of like two twenty win seasons almost," he said. "So when you look at it that way it's huge, because it's a real nice achievement for the program."
The 2011-2012 USCHO National Coach of the Year is thrilled to have reached the 50 win mark, but is still keeping his focus on what the program has done as a whole.
"It's just huge in the sense that it means the program itself is winning hockey games and that's what a lot of these players are committed to doing," the 37 year old said. "They're trying to put themselves sin the best position possible to win games and be successful, so that part's really exciting."
Defenseman and assistant captain Brandi Pollock attributes Colontino's attitude to the collection of so many W's.
"He expects the best, so if you're not giving you're 110 percent or you're kind of having an off day, he's sure to let you know, which is good because then everyone's always going 100 percent and that's what a winning team is all about," she said.
"It's not just a one person thing," continued the senior, "which is why we have so many wins. Everyone knows that each and every shift counts, every workout you do counts, everything lead up to the win.  Every win we've had together, so it's just a team effort."
Including the milestone game, the Colonials improve to an overall record of 16-3-1, the best first-half record in program history. Even though the team has made immense progress, Colontino believes they can achieve even more.
"It's not really about the fifty wins for me," said the former Mercyhurst defenseman. "It's more like, 'hey that's pretty cool. We've got fifty games in two and a half years.'  Let's get more."
About the Contributors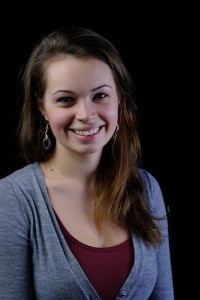 Haley Sawyer, Assistant Sports Editor
Haley is a junior communication major with a concentration in journalism.  She is involved in both print and broadcast journalism at the Academic Media...