Field hockey struggles to compete on Astro Turf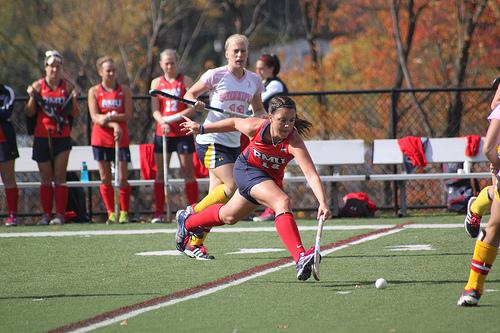 The Robert Morris field hockey program is not necessarily happy to be competing on the same surface used by the football team, but the Colonials feel they have an advantage when opponents play them at Joe Walton Stadium.
"There are certain things about our turf that no other team will know about until they have played here," said sophomore defender Michelle Lewthwaite. "At times we have the upper hand because we know the places where the ball will fly up if it hits a certain spot."
Although RMU is one of only a few teams in the NCAA that plays their home contests on Field Turf, which is a mixture of rubber and polyethylene fibers, the lady Colonials have found it difficult in the past to contend with clubs that use Astro Turf for their home venue.
"The ball speed is the biggest difference, "said RMU head coach Olivia Netzler. "When they [clubs that use Astro Turf] play us, they've been practicing at a faster pace during the week, so they're faster than us because they're used to playing on a faster surface."
In their September 7 contest at Kent State, Robert Morris fell to the Golden Flashes by three goals, despite outshooting their opponent 10-7.
According to Netzler, Kent State was used to the brisk speed of play that Astro Turf provides, and as a result, had a leg up.
"Defensively, we reacted to a much slower game and they scored a couple of times just because they're use to the fast pace," she said.
Despite the fact that RMU is at a disadvantage whenever the squad plays an away match on Astro Turf, the club doesn't have to worry too much about the surface once Northeast Conference play begins.
Of the seven schools with field hockey programs in the NEC, only Monmouth and Quinnipiac compete on Astro Turf.
"We'd like to have Astro Turf simply because that's what most of our games are on. It doesn't really make a difference when it comes to the conference because a lot of other NEC teams have Field Turf," said senior goalkeeper Paige Neat. "It's slowing becoming more Astro Turf that we're playing on though."
Netzler said that bigger universities have been able to purchase an Astro Turf playing surface because the area gets used for more than just field hockey.
"A lot of schools have been able to afford it, but have also been very crafty in allowing it to accommodate the entire school's population, including intramural," she added.
Because the Colonials roster consists of seven players out of 20 girls who hail from Australia, freshman forward Jess Martin-Brown would like to see Robert Morris install a separate Astro Turf field on campus during her time with the program.
"Field Turf is very similar to grass, but it's a little better to play on," said the native of Mount Gambier.  "I would absolutely prefer to compete on Astro Turf because that's what we have back in Australia."
Although her team does not have the luxury of playing on a specially designed artificial field, Netzler said the program has learned to adjust to the Field Turf during her time at RMU.
"It's something we just have to deal with," the six year coach said. "I think that we'd be in a much better position to be a top 20 school if we had Astro Turf because we're still competing with those schools, we're just one shy of the outcome."
About the Writer
Nick Buzzelli, Sports Editor
Nick is a senior communication major with a concentration in journalism at Robert Morris University and is the Editor-in-Chief of RMU Sentry Media.

In...