Fisher's legacy shows no bounds
Robert Morris women's volleyball star player Arden Fisher is the definition of success, on and off the court.
Her ability to break records and still come off as a gracious human being are second to none. A lot of that, especially her talent in volleyball, can be traced back to her family.
"We're just a volleyball playing family," she said. "My dad played, my sister played, and my brother played. When I was younger, I would always ask my sister to pepper with me after school or anytime she was free. My brother does that when I go home, so we're always trying to play."
Her mom, Charlotte, played overseas in Spain after graduating from Eastern Kentucky. Although, she never forced her daughter to follow in her footsteps.
"She's a huge supporter," said the senior outside hitter. "She doesn't push anything. she's never said I have to play volleyball. Just her going to Spain was eye opening for me, I think. Because that's a pretty neat goal to have."
This past summer, Fisher was able to partially achieve this goal by being selected to the United States U-22 roster for the Global European Challenge in Croatia. "It was just a great honor," she said about being selected. "Just appreciative of the opportunity."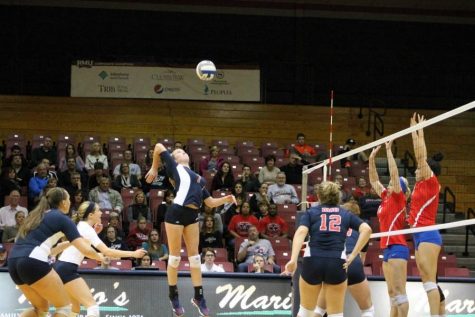 The senior was selected to the All-Tournament Team. She was just one of 13 to be selected out of 130. She described the overall experience of the tournament as "an experience of a lifetime."
Fisher is about halfway done with her senior season. She described the difference between her freshman season, and this year.
"As a freshman I'm trying to run around, getting to know the place, getting comfortable," she said. "Now I think I'm relaxed. This is my last year to really make a mark in the program, so that's what I'm going for."
Fisher has already accomplished her senior goal, which was "to make a mark in the program."
She is the only player in RMU history to record over 1,000 career kills, as well as over 1,500 career digs. When asked about the record, Fisher took the moment to thank her teammates. "It just means I'm very grateful for the teammates I have. I wouldn't be here without them."
Continuing to recall moments from her stellar career, the Colonial picked one moment to relive. Last year's NEC-winning run to the NCAA Tournament was something Fisher said she will never forget. "A very big bonding moment for the team," she said. "It gave us a lot of confidence for future seasons."
It's easy to see how much the team means to this humble athlete. A sport can affect an athlete in a lot of ways, especially in how they grow as a person. When asked how volleyball impacted her Fisher said, "Just the typical stuff, time management, leadership, commitment, dedication. Leadership goes into group projects into classes or being able to help everybody off the court with their personal lives. I'm always there."
It seems that sort of impact will continue onto the professional level as Fisher plans to continue her volleyball career.
"I haven't really looked into it yet, but I definitely wanna try and play overseas," said Fisher. "Or try to travel and play sand somewhere. I don't know if my body is going to allow me to play indoor after this, but I'm going to try. It doesn't really matter to me. I'll go anywhere."
Fisher and the rest of the 2016 RMU women's volleyball team's season is still just getting started as the reigning NEC champs are finally starting conference play. The team, however, struggled towards the end of their non-conference schedule as they are currently on a five-game losing streak.
When asked what the team is doing to rebound from the losses, Arden answered as well as offered up some words of encouragement. "We're watching lots of film. We're still trying to speed up our offense. But we came off of a seven-loss streak last year, so this isn't bad compared to that."
The conference portion of the season isn't easy. When asked who their toughest upcoming opponent will be, the star said Sacred Heart.
"They've had some big wins in the preseason and they're bringing many players back from last year."
Fisher looks to continuing leading her team to greatness, now that the conference season is in full swing. The team travels to Sacred Heart on Oct. 2 and takes them on at home on Oct. 30.