It's a draw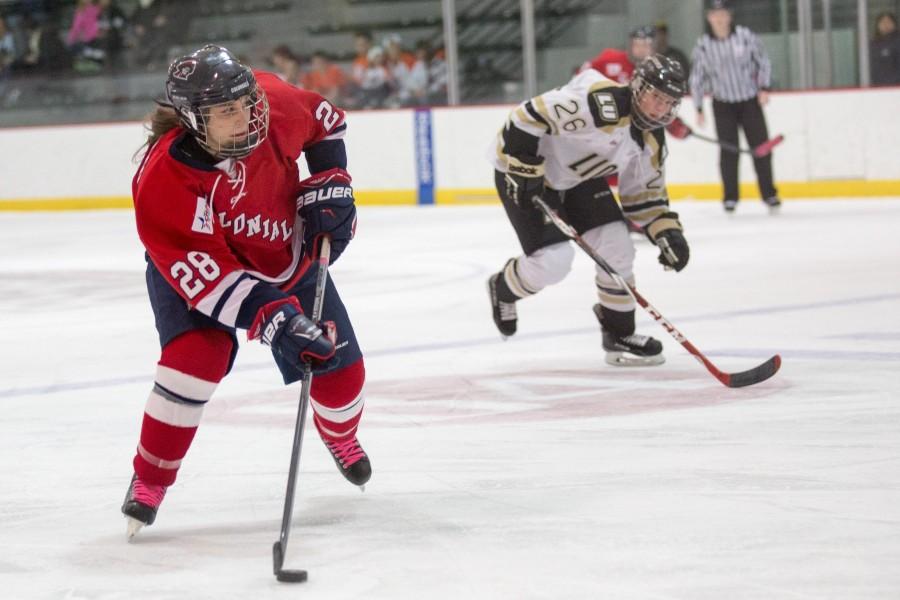 The Colonials fought hard against the Penn State Nittany Lions, but unfortunately the meeting ended in a tie game at 2-2 at 84 Lumber Arena.
Right off of the opening faceoff, both teams exploded with physicality and speed. There was equal puck possession for the most part, and multiple turnovers in the neutral zone.
Robert Morris was able to successfully kill off a penalty to freshman Sarah Quaranta (tripping, 8:51). Dodds stood tall in net and led the team back to full strength.
The inability to capitalize left Penn State frustrated. Their play became panicked and rushed, and at the 11:17 mark, Nittany Lions' Hannah England let up a two minute penalty for hooking.
The Colonials took advantage of the extra man and crashed the net. The first power play unit barraged Penn State's goalie, Celine Whitlinger, but it was the second unit's freshman Amber Rennie to finally tap one in off assists from sophomore Brittany Howard and freshman Maggie Lague.
"It's huge to get on the scoreboard first," said Rennie. "Hopefully they can get down on themselves, and we can pick our team up. It was a power play goal, so that's huge."
With the Colonials up 1-0, a spark of energy ignited in both teams. Unfortunately, the Nittany Lions didn't back off, as this spark lead to a quick even strength goal by PSU's Hannah Bramm with 5:23 left to tie the game back up in the first period.
Deflated but not defeated, Robert Morris returned to the ice in the second period ready to take the lead.
The Nittany Lions' physical dominance worked against them, and at 5:52 Paige Jahnke let up a holding penalty.
This was RMU's chance. The power play unit came out aggressively on the puck. When it finally landed on the tape of Howard, she lit up a powerful shot from out near the blue line. It whistled past Whitlinger and into the back of the net. Robert Morris was back on top, 2-1.
Shortly thereafter, the Colonials' freshman defender Kirsten Welsh served two minutes in the penalty box on a checking penalty (6:23). Ten minutes later, junior forward Maeve Garvey served another penalty, this time for holding (16:23). The Nittany Lions could capitalize on neither opportunity and the game remained 2-1 in favor of Robert Morris heading into the third period.
The third period started off very similar to the first: aggressive, fast, and physical. Both teams were at even strength, and play was held in the neutral zone between two powerful defenses.
Three minutes in, Penn State drew first blood with an even strength goal by Laura Bowman. There seemed to be some miscommunication and confusion around the Robert Morris net as the Nittany Lions put one past the impenetrable Dodds.
Tied once more, the Colonials tried to find the back of the net, but were unsuccessful. They had a power play opportunity caused by a two minute holding call against PSU's Kelly Seward at 13:15, but nothing came out of the endeavor.
Senior captain Ashley Vesci and junior Rikki Meilleur had a brilliant opportunity, but unfortunately Meilleur's shot went wide.
The two teams headed into overtime tied at two apiece. Shoves were exchanged, shots were taken, and play was strong, but nothing really came out of the additional five minutes. The game ended with the final score of 2-2, leaving both teams wanting more.
Dodds ended the night saving 31-of-33 shots, an impressive feat against an aggressive team like Penn State.
"I just kept focusing on every individual puck because if you start thinking ahead like, 'Oh we can win this game' or you start thinking about the outcome, you don't necessarily think about the performance aspect of it," said Dodds. "Sometimes if you think about the outcome, it's distracting and you have to think more performance based like, 'I need to stop every shot and make sure my stick is in the correct position' and just be prepared for every single shot."
Robert Morris plays Penn State next on Nov. 14 at 84 Lumber Arena at 3 p.m. RMU is looking to improve their game, come back stronger, and beat the Nittany Lions in their rematch.