Joe Walton passes away at age 85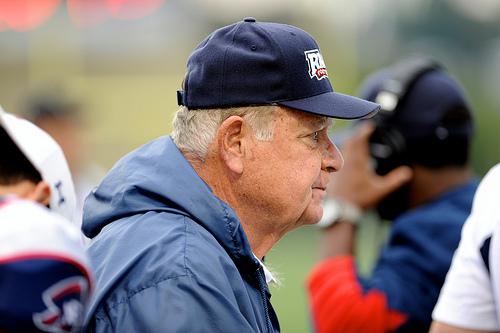 Today, Beaver Falls native and former Robert Morris head football coach Joe Walton passed away at the age of 85.
The RMU Department of Athletics is sorry to learn of the passing of Joe Walton, the architect of @RMU_Football.

Walton was inducted into the RMU Athletic Hall of Fame in 2013, and he is seen pictured here with former Washington quarterback @Theismann7.#RMUFB | 🔵🏈🔴 pic.twitter.com/8br1Fn5IJP

— RMU Athletics (@RMUAthletics) August 15, 2021
Walton was named the first head coach in the team's 27-year history on July 27, 1993, building the program from the ground up by hiring coaches, purchasing the equipment and recruiting players for the team's first season in 1994.
Walton's squad had success from the get-go, leading a squad of 64 freshmen to a 7-1-1 record just 13 months after being named head coach. He led the team to its first Northeast Conference championship in 1996.
Just four years later in 2000, he led RMU to its first perfect season sporting a record of 10-0. In 2010, he guided the Colonials to the NEC's first bid to the NCAA FCS Playoffs with a perfect record of 10-0.
In his 20 year tenure at the University, the Colonials won three outright regular-season titles in 1997,1999, and 2000. The team shared possession of the regular-season title in 1996, 1998, and 2010.
Along with Walton's success in the NEC, he also had success in the postseason as he led Robert Morris to back-to-back ECAC Bowl victories in 1996-1997 and then again in 1999-2000.
Many players raved about Walton as a coach. Former Colonial cornerback Robb Butler, who is one of a few Robert Morris alums to play in the NFL, said that Walton helped him make a name for himself in a CSN exclusive interview back in November 2020. "Coach Walton knew who I was and the player that I could be as long as I was healthy for the season opener," Butler said. "When the pelvis condition [I had] would flare up and I had to be in the training room for treatment for a few weeks, I didn't lose my starting job."
Butler also talked about how Walton was also one of the most professional coaches that he has ever met. Butler said, "[Walton] transferred all of his framework and philosophies from time in the league as a coach and player from the NFL to a 1-AA mid-major college," Butler said. "He was big on film study, big on knowing one's roles and responsibilities. He gave me a lot of wisdom and nuggets that really helped me make an NFL team after Robert Morris."
Outside of Robert Morris, Walton was a two-time All-American at the University of Pittsburgh as a tight-end. After his collegiate career with the Panthers, he was drafted in the second round of the 1957 draft to the Washington Redskins (now Washington Football Team). Walton spent seven years in the NFL with the Redskins and New York Giants, racking up 178 receptions for 2,628 yards and 28 touchdowns.
After the 1963 season, Walton was hired as a scout for the Giants where he spent four seasons.
He was then promoted to the Giants Quarterback/Wide Receivers Coach in 1969 and was in that position until the end of the 1973 season when he returned to the team that drafted him the Washington Redskins, getting hired as the Running Backs Coach.
Walton spent four seasons as the Running Backs Coach before he was promoted to Offensive Coordinator in 1978 where he tutored Redskins quarterback Joe Theismann.
Coach Joe Walton passed today. He was my coach, and my friend. He taught me how to play QB at the pro level. He touched so many lives whether it was in pro ball or at the college level. We all have a part of Joe with us. Rest In Peace Pops.

— Joe Theismann (@Theismann7) August 15, 2021
Walton then went to the New York Jets and served as the Offensive Coordinator for two seasons from 1981-1982 before being promoted to head coach in 1983. In his first season at the helm, the team posted a 7-9 record.
He spent six seasons as the head coach of the Jets, posting a career record of 53-57 and leading the Jets to back-to-back playoff appearances.
Walton concluded his NFL coaching career with the Pittsburgh Steelers on Chuck Noll's staff as an offensive coordinator from 1990-1991.
In 2005, Robert Morris' football stadium was named after Walton and before his final season as head coach in 2012, Walton was inducted into the Robert Morris Athletic Hall of Fame, and then after he retired in 2013, he was inducted into the Northeast Conference Hall of Fame.
Joe Walton will leave a lasting legacy on the Robert Morris football program and the players that he has coached along his 47-year journey as a professional and collegiate coach.