Marshall scores late goal to defeat Colonials
Pedro Dolabella scored his first goal of the season in thrilling fashion with 0:59 left on the clock as the Marshall Thundering Herd (3-1-0) defeated the Robert Morris Colonials (0-4-0) 2-1.
The loss marks RMU's third one goal defeat in four matches this season.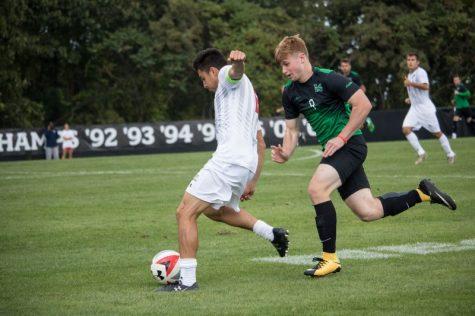 Marshall was in complete control of the game early on, taking advantage of Colonial turnovers and passing the ball with great precision.
Robert Morris, on the other hand, was struggling to maintain possession and to create scoring opportunities.
"I think the wind was definitely a factor in the first half," said RMU head coach Bill Denniston. "Once the second half started our offense played a lot better," Denniston said.
Marshall was able to get on the board first when Lewis Knight, the freshman from England put in the beautiful one-touch goal off the bar in the top right corner to give the Herd a 1-0 lead early in the first half.
Most of the second half for the Colonials was plagued by missed opportunities that left them continuing to face a 1 goal deficit.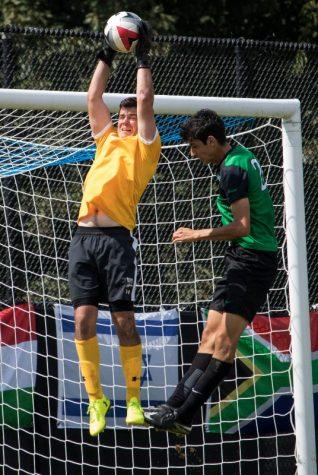 The one bright spot for Robert Morris was the strong play from Winter Fondi in goal. Fondi finished the day with seven saves and was a constant presence inside the box.
"He's been solid for us all year. I mean it seems like if there is going to be a goal scored on him it's gonna be a highlight goal," said Denniston.
Fondi was able to keep his team in it in order to allow Zac Sherman to come in and tie it up in the 82nd minute. It was his first goal of the year off the assist from Keane McIvor.
But ultimately it was not enough as Marshall was able to avoid overtime with another highlight goal past Fondi and it was too late for the Robert Morris Colonials as 59 seconds was not enough for Denniston and his team to get another equalizing goal.
"Today it was good we had to fight back," said Denniston. "We played a good game," Denniston added.
With this loss, the Colonials fall to 0-4 on the season. The team continues their quest for their first win of the season against the Purple Eagles of Niagara University on Friday in the first match of the annual Mayor's cup held in Onenonta, New York.