Men's basketball reaches century mark in win over D-III Hood
MOON TOWNSHIP — The Robert Morris men's basketball team (5-8) defeated the Hood Blazers (7-6 D-III) by the score of 108-51, the fourth highest point total in program history. The win ended a five-game losing streak for the Colonials and comes on the heels of an impressive performance against ACC Louisville in which the team led at halftime by the score of 32-29 before falling 73-59.
RMU came out of the gate shooting well from three-point range. At the second media timeout at the 11:45 mark, RMU shot 3-4 from three-point range and held Hood to 2-13 shooting overall. Unfortunately for Robert Morris, they got into foul trouble during the first eight minutes and kept Hood in the game. At the second media timeout, RMU had six team fouls and Hood was 6-8 from the free throw line. This kept the score at 17-11.
They started to pull away shortly after that and took a 20-point lead with 7:11 left in the first at 36-13. From there on, they controlled the game and started to cut down on the foul trouble. At the end of the half, RMU led 50-26.
The Colonials played extremely well in the first half as they shot 18-30 (60.0%) from the field and, more impressively, 8-15 (53.3%) from three-point range. They held Hood to 7-28 (25.0%) from the field and 2-10 (20.0%) from three-point range. The Colonials also outrebounded Hood 29-10, however RMU turned the ball over 11 times in the first half and they fouled Hood 11 times as well.
"I rely on my defense more than my offense," said Malik Petteway when asked about the team's strong defensive perfromance. "(My defense) gets me going. The team did a really good job of defending the ball and hopefully going into conference play we can continue to defend and get a lot of stops as well."
The Colonials came out of halftime hot and extended their lead to 61-28 after a 11-2 run in the first four minutes of the half. They extended that run throughout the whole second half, but the foul and turnover trouble also continued into the half. Nonetheless the team kept pace for hitting the century mark which they hit with 3:25 left in the game. It was on a Charles Bain layup, and the team led 100-44 at this point.
The final score was 108-51 in favor of Robert Morris. Petteway led everyone with 18 points in the contest and he had a double-double as he also snagged 10 rebounds. Matty McConnell also had a big game with 17 points, a season-high for him. Both Williams brothers finished with 12 points on the night after they each made four three-pointers. Yannis Mendy finished with a game-high 15 rebounds.
"God was testing me this whole non-conference with my shots," said McConnell. "I was shooting good shots, they just weren't falling and I thank the coach's for still believing in me and letting me shoot. I hope this carries on to next Thursday when we play FDU here."
Despite the lopsided win, the Colonials did struggle in two key areas in the game as they turned the ball over 21 times and had 22 fouls in the game. They were able to get past that thanks to 43-63 (66.2%) shooting and they outrebounded the much smaller Hood 53-19.
"I think a lot of the turnovers were careless," said head coach Andy Toole. "Give them credit with them playing a three-quarter court match-up and with their zone, we haven't seen that much zone all year long and some of our timing wasn't as crisp as it needed to be."
The Colonials finish non-conference season with a record of 5-8. Their next game will be against Fairleigh Dickinson on January 3rd. After that home game, they will host Mount Saint Mary's on January 5th before starting a four game road-stretch against NEC foes.
About the Writer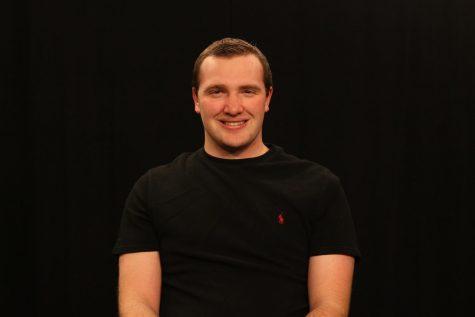 Logan Carney, Sentry & CSN Co-DCM
Logan Carney is a communications major with a focus in sports and he also has a sport management minor. He is in his fourth semester at Robert Morris....