MEN'S LAX PREVIEW: Tournament aspirations fuel the fire
Nick Milliron and Morgan Torchia
Robert Morris Men's Lacrosse arguably has one of the most high-octane offenses in the Northeast Conference, averaging 11.3 goals per game and 17.53 points per game. And despite losing their top two scorers, Luke Laskiewicz and James Rahe, head coach Andrew McMinn believes his squad has what it takes to stake themselves atop the NEC.
"This season we are looking for an NEC championship and get to the NCAA tournament," said sophomore goaltender Alex Heger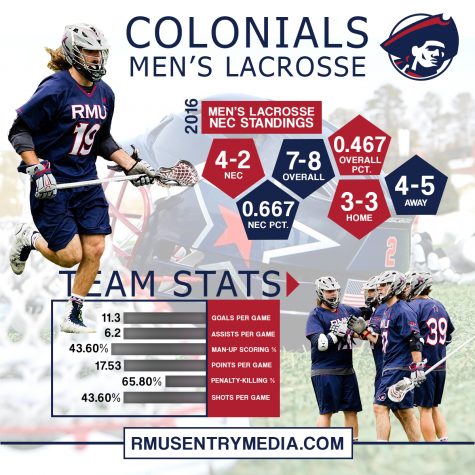 The scoring this season will fall on the ready and experienced shoulders of Adrian Torok-Orban who was the Colonials third leading scorer during their 2016 campaign, finished the year with 29 goals and 10 assists. His 39.2% of shots that resulted in scores was the highest among any Colonial with at least 10 shots last season, proving himself as the most efficient scorer on the team.
Torok-Orban will combine forces with the likes of Alexander Bohl, Eric Rankel and Eddie Smith, who combined for a total of 36 goals last season as they hope to replace the 77 goals and 112 total points scored by Laskiewicz and Rahe last season. But this year, it is clear the narrative has changed.
"This year without having a go-to guy, it's becoming a huge advantage for us. That everyone has a collective effort to get the job done at any given time." Said head coach Andrew McMinn who even compared his team to more of a San Antonio Spurs rather than a Cleveland Cavalier or Golden State Warriors of the NBA.
If the team looks to continue their fast-paced play, they will need to have players who can score high numbers and counter the frequent amount of scoring that their style of play allows.
"Our style of play makes us a little more vulnerable at times on the defensive end," said coach McMinn "We like to push the pace and play transitions, so we are going to have goals scored against us"
Alex Heger will have big shoes to fill himself, as RMU also looks to replace their net-minder Matt Bukovac who started in 11 of the Colonials 14 regular games as a fifth-year senior in 2016.
"I think Alex is really primed and ready to go to play this season as the full-time guy," said Coach McMinn
And while Heger's play will certainly have a large impact on the team's record, he believes it is that idea of family and brotherhood, which coach McMinn has instilled in his team that will propel him and his teammates to fill those big holes.
"We're all here working hard together, working hard for each other…if we're all brothers out here, we're gonna trust each other on the field, off the field. It is gonna help us make the right decisions and translate to results on the field" said Heger.
This idea of a full team effort will be put to test at the team's first exhibitions against Seton Hill and Mercyhurst on January 28th to prime them for regular season play and the beginning of what they believe to be a championship campaign.