Men's soccer conference preview: Forgetting the past and looking towards the future
Trees are turning red, the air is getting cooler and the Robert Morris University Colonials men's soccer team is getting prepared. Conference play is on the horizon, and the Colonials are doing as best as they can to stay healthy.
This could be where the season turns around.
The season has started quite slow for the men, and they are determined to make a complete 180 and dominate their conference.
Coach Denniston said he hopes, by getting key players back, that all of his men can coexist and put some wins in the win column. He wants consistency, something all successful programs across the world own, to be the main focus of the organization.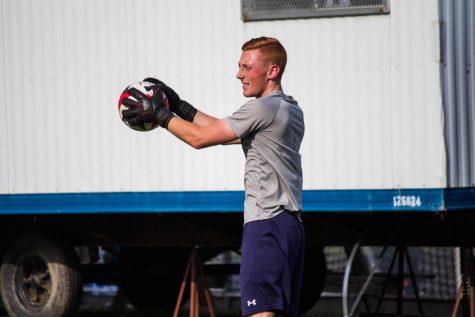 No matter who is on the pitch, he wants them to play together and effectively, scoring some goals and keeping the ball out of their own net.

Thus far through the season, the men are trailing their opponents by a combined score of 20-10. They have struggled on the road, posting an 0-3-0 record that can only improve from here. At 1-7-2 overall, the Colonials look to start strong as they head off to Connecticut to face Central Connecticut State for their NEC opener. Central Connecticut State sits at 3-5-1 on the season.

RMU then has back-to-back home games against Bryant and Fairleigh Dickinson which will show if Robert Morris can protect their home pitch. At 0-7-0, Bryant should be an interesting game, while the 6-2-1 Fairleigh Dickinson Knights will push the Colonials to the limit and then some.

Next will present a weekend-long road trip to Brooklyn, NY, with games against St. Francis (Brooklyn) and LIU. The Terriers of St. Francis are a stout 6-4-0, and play very well at home (3-1-0), a big test for any visitor. However, the Blackbirds of LIU are a cushion, if needed, at a measly 1-5-2 (1-2-0 at home).

The last game at home for the Colonials comes Oct. 29 against Sacred Heart (3-6-0; 0-4-0 on the road). The seniors hope they can leave on a high note against a rival. The regular season finale is

"

With our team at full strength, and if all eleven on the pitch coexist, our current record does not describe us as a team,"

— Bayley Winkel

in Loretto, PA, facing St. Francis (PA). The Red Flash are a respectable 6-3-0, and 2-0-0 at home so far. The schedule proposes an uphill battle for the Colonial men.

Robert Morris senior and leading goal-scorer Bayley Winkel believes this team can turn it around heading into NEC play.

"With our team at full strength, and if all eleven on the pitch coexist, our current record does not describe us as a team," said Winkel. The senior forward, with a phenomenal 15 points and seven goals in 10 games, is the emotional leader of the team. You can see it in his eyes, he is hungry for that first win.

The team needs to help out goalie Winter Fondi, who has an immaculate 47 saves, but has allowed 20 goals on 135 shots. This is not a winning formula. Winkel mentioned that the only way the team will win is if each player knows what the guy next to him is wanting to do. Cohesion equals success.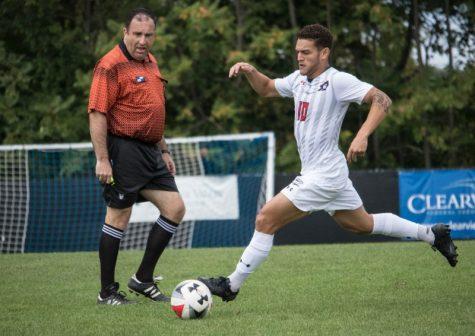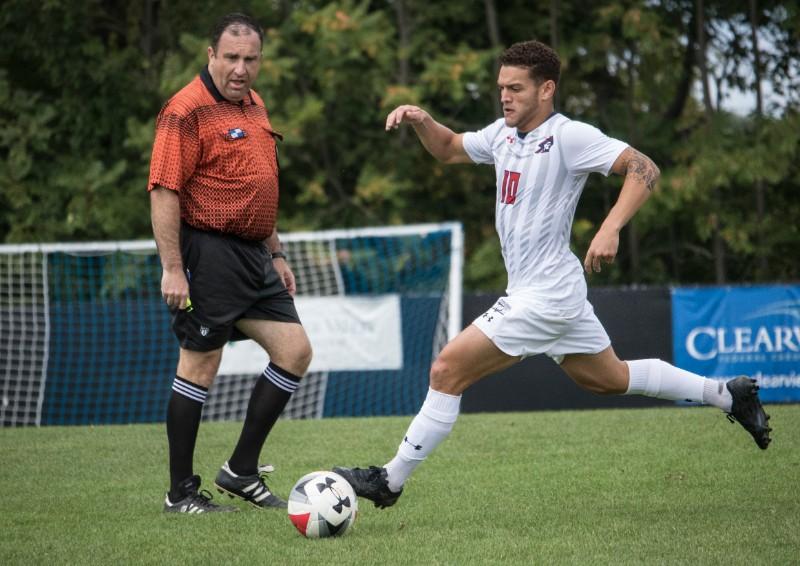 The men exemplified something at practice that usually isn't shown from a winless team, heart.
The dedication these guys put in day in and day out was personified with their footwork, communication and skills on the field. Each pass was crisp and on target, each player talking to one another about where to go next or to which one the ball was coming towards. The team is not one man above all, this one is all for one.
All 28 players play for one purpose, not to be the best player in the world but to be the best team they can be. Soccer is a team sport, each team wins as a team, a player doesn't win as a player.
Conference play is mere week away, and the Robert Morris Colonials are ready for whatever will come their way. Coach Denniston works hard to position his men to become the best they will be and it is showing on the practice field, now they must place it, in game situations. Led by goal-scorer extraordinaire Bayley Winkel, the Robert Morris men's soccer team begins NEC play this upcoming Friday, Oct. 6, 2017 in New Britain, Connecticut, against the Central Connecticut Blue Devils at 2 p.m.