NCAA men's hockey earns 100th program win at home against Canisius
  The Robert Morris University NCAA men's hockey team beat the Canisius Golden Griffins 6-4 on Friday February 3, 2012 for the teams 100th program win.
  "It's a big deal.  This is only the programs eighth year, so to get 100 wins pretty quickly is a good accomplishment," said senior forward, Nick Chiavetta.  "Hats off to Derek Schooley, he's been here from day one and built this program from the ground up."
  From the moment the Colonials earned win 99, they knew the pressure was on to get win 100.  "It's a pretty special win.  After losing the last two we were pressing to get it," said senior captain, Trevor Lewis.  "It's a big step for our program and a big win so we're pretty proud of it."
  Head Coach Derek Schooley has been behind the bench for all 100 wins and was quick to give credit to those around him.  "It's about the program, the alumni and the players that have put a lot of blood, sweat, tears, and heartache and excitement into the program for the last eight years.  I'm more excited for them than anything personally," said Schooley.  "It's good that we got the monkey off of our back.  We made it difficult on ourselves, so other than that we're really proud of the program in general to get the win that quickly."
  Now that they have win number 100 out of the way, the Colonials know that it's time to focus on the rest of the regular season and eventually the playoffs.  "It feels great to get that monkey off of our back and just go forward from here," said Chiavetta.
  In Fridays contest, the Colonials were led by goals from Chiavetta (2), Tom Brooks, Zach Hervato, Jeff Jones, and Adam Brace.
  They were able to jump out to a 5-1 lead just over five minutes into the third period, but Canisius battled back and make it 5-4 until Chiavetta scored an empty net goal with just under a minute left in the game to make it 6-4 RMU. 
  "When we took the 5-1 lead, I think we turned it off a little bit and started to rest and relax for Saturday's game," said Schooley.  "Then we had to turn it back on and I have to give a lot of credit to Nick Chiavetta on the empty net goal."
  The Colonials know that they need to play a full 60 minutes if they want to win games.  "I think it was just us getting a little point hungry and we definitely made it hard on ourselves," said Lewis.  "We've done that a lot this year and it's hurt us, so we need to learn from that."
About the Writer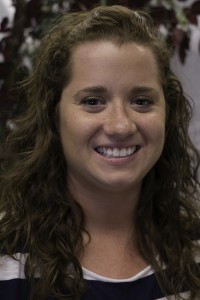 Brooke Smith, Editor-in-Chief
A senior journalism major at Robert Morris University, Brooke serves as the Editor-in-Chief and a staff writer for RMU's student-run newspaper, "The...