New fitness center appproaches final stages of completion
The new student fitness and recreation center is nearing its completion deadline of Robert Morris University's homecoming on Sept. 16, and it will impact some of RMU's division one athletic teams as well as the students.
Not to be confused with the UPMC Event Center that will replace the Sewall Center; the new fitness center will include facilities to be used by both students and RMU's basketball and volleyball teams.
The RMU men's basketball team will hold eight of their home games at the PPG Paints Arena, and the other four will be held at college campuses around the Pittsburgh area. The men's basketball team will only use the new fitness center for practices.
All but one of the RMU women's home basketball games and all of men's and women's home volleyball games will be held at the new facility.
Admission to any of RMU sports home games will be free to students. Transportation to all games not held on campus will be provided by the school.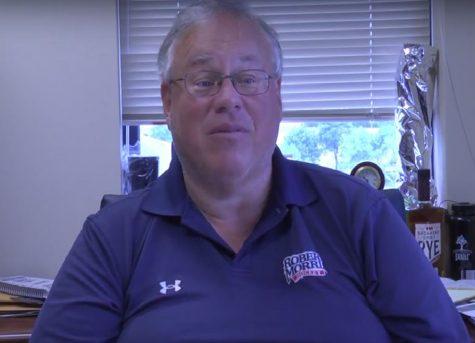 RMU's Athletic Director Dr. Craig Coleman said, "Our students being at the games is a high priority to us, we will shuttle our students wherever we are playing."
Almost the entire building will be available for student use, except for the athletic locker wing to be used by men's and women's soccer and softball teams. The fitness center, courts, group exercise rooms and locker rooms will be open to all students.
The student center will feature many new facilities available to students.
"We have got at least twice as many lockers in this new building for the men's room and women's room. We've got more private showers in those locker rooms which I think students will appreciate," said Director of Campus Recreation Armand Buzzelli. "Plus, we also have a private changing shower room where you can come in on an individual basis and get changed and showered ."
As for the Jefferson Center, which is the current student fitness center, it will initially become a strength and conditioning area for RMU's NCAA teams. The future of the Jefferson Center is to be determined because the UPMC Event Center will hold much of what the Jefferson Center is going to be used for after the completion of the new student fitness center.
"The university has yet to determine what will be going on here at that point," said Buzzelli. "At least for a year and a half from now."