Players and coaches react to new event center
The buzz around campus is all about the new state of the art upgrades that the Charles L. Sewall Center will be receiving starting in June as it transforms into the UPMC Event Center and the People's Court. It will be the brand new home to the Robert Morris University Men's and Women's Basketball teams in addition to the Women's Volleyball team starting in January of 2019.
Coaches such as Women's Volleyball head coach Dale Starr are excited for the implications these new facilities will have on every facet of athletics. ""It is always exciting when you see an athletic department moving forward and providing the programs and student-athletes with modern, up-to-date facilities." said coach Starr
"College athletics, and recruiting in particular, depends heavily upon facilities and a sense that the athletic department cares for and rewards the athletes efforts with great facilities to support them on the field, court and in the classroom."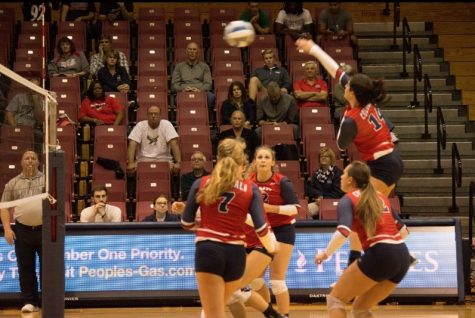 This will certainly be a great recruiting tool for programs such as the Volleyball team, who are looking to replace some all-time great players in Arden Fisher, Leah Dunivan and April Krivoniak in the always competitive NEC in which the Colonials Women's Volleyball team claimed a title in the 2015 season.
Both Women's Basketball and Volleyball will spend their next seasons playing in the brand new recreation center which has plans to be finished for the start of the upcoming Fall semester. Whereas the Men's Basketball team will spend their next season at the PPG Paints Arena in downtown Pittsburgh, home of the Pittsburgh Penguins.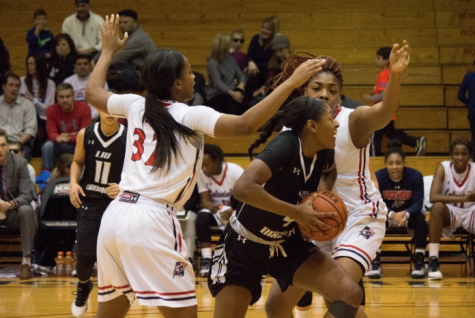 "991 days" said Women's Basketball head coach Charlie Buscaglia "that's an amazing amount of time to be able to grind through this whole process and there's so many people behind this…and just to see it all laid out like this, it's just beautiful to see"
"It's exciting to go from the beautiful Sewall Center and to think that someone could create the vision and the image that we saw in the video" said sophomore guard Nia Adams, who will be a senior when the UPMC Event Center and People's Court open in January 2019.
Coach Starr finishes with a very bright outlook for the future of Robert Morris Univeristy. "I think this new facility will be a wonderful addition to Robert Morris as we continue to move forward with making this campus a great place to not only learn, but to excel athletically as well. Our players are excited about it, and so are the coaches. We look forward to making it our new home and continuing to compete for NEC championships."