Preview: Women's lacrosse travels to Brooklyn, looking to continue dominance of Blackbirds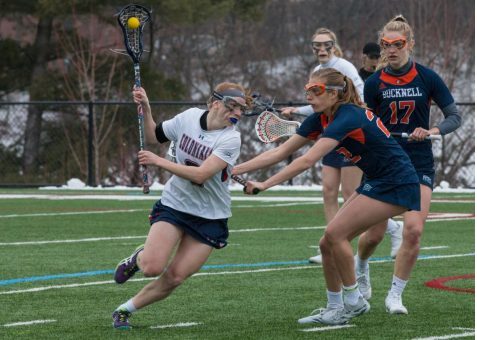 BROOKLYN, NY– The Colonials women's lacrosse team (9-4, 2-2 NEC) is back in action on Saturday as they travel to Brooklyn to take on the Blackbirds (6–8, 3-1 NEC). In 12 career meetings between the two teams, the Colonials lead the series 11-1, including winning 11 in a row.
Recapping RMU
Robert Morris is coming into this series strong, winning their last two games, including a 15-3 win over Sacred Heart on Thursday. Robert Morris was led by a strong performance by Clio Kerr and Mackenzie Gandy, who both had hat-tricks in the win.
On the season for Robert Morris, the team is outscoring the opposition 11.67 goals per game to 10.25 goals per game. In order for the Colonials to succeed, they will need to be stronger when shorthanded. The Colonials are currently 0-14 when down a man.
Previewing LIU Brooklyn
Like Robert Morris, the Blackbirds are sporting a two-game win streak, however, LIU's victories have been by a much narrower margin. In their last game, LIU beat Saint Francis 12-10. Amanda Masullo had 4 goals and 3 assists, while both Bianca Santucci and Rachel Masullo both had a hat-trick.

On the year, LIU Brooklyn has been efficient on offense in terms of shooting. The team is second in the NEC with a 47.5% shooting percentage. LIU is also being outscored by their opponents by a tally of 11.36 goals per game to 13.14 goals allowed per game.
Players to Watch
Melanie Gandy (RMU): One of the dynamic Gandy twins, Melanie is known more as the assist machine of the two. Gandy is currently 35th in the NCAA with 1.83 assists per game. She is second on the team with 42 points (20g, 22a), behind only her sister, Mackenzie.
Mackenzie Gandy (RMU): As the other Gandy twin, Mackenzie has more of a knack for putting balls in the net. Her 29 goals are eighth in the NEC, and the highest for the Colonials. She has had a hat-trick in her past two contests, and in one career game against the Blackbirds, Gandy has four goals and three assists.
Amanda Masullo (LIU): Similar to the Colonials, the Blackbirds also have a talented set of twins on their roster. First up for the Blackbirds is Amanda Masullo. Amanda is leading the team in goals, assists, and points with 46 goals, 18 assists, and 64 points.
Rachel Masullo (LIU): Although Rachel may behind her sister in all three stats; she should not be overlooked. Masullo has 37 goals and 14 points, good enough for 51 points this year. Masullo also has a 50.7 shooting percentage, the highest on the roster.
Prediction:
Against the Blackbirds, the Colonials will come out on top in this one, winning their 12th straight contest against LIU Brooklyn. The Colonials will not make this one close, as Mackenzie Gandy will score six goals in the 14-4 victory.