RMU splits series against Holy Cross
Hang on for a minute...we're trying to find some more stories you might like.
  The Robert Morris University NCAA men's hockey team obtained two out of four possible points during their two-game series against the Holy Cross Crusaders at the RMU Island Sports Center this past weekend. 
  Friday's game featured a 4-3 overtime win for the Colonials with junior goaltender, Eric Levine making 31 saves on 34 shots.
  Freshman forward, Cody Wydo, tallied two goals in the game and is now leading the team in goals with 11 on the season. 
  RMU took the lead 7:31 into the first period when Wydo scored his first of the night from senior captain, Trevor Lewis. 
  Holy Cross would then tie it just under 10 minutes later and after one period of play, the score was deadlocked at one. 
  The second period was all Colonials on the score sheet.  Senior defenseman, Josh Jones scored his first goal of the season with the assists going to junior forward, Zach Hervato and senior forward, Tom Brooks to make it 2-1 RMU.
  Wydo would score his second of the night at 15:25 of the second, with the assists going to Lewis and senior forward, Cody Crichton.
  Holy Cross would then battle back in the third to score two more goals and tie the game at 3-3 and eventually force overtime.
  Although the momentum seemed to be favoring the Crusaders, the Colonials would come out victorious with Crichton scoring his fourth goal of the season to give the Colonials the 4-3 win and two important points in the Atlantic Hockey Association standings.
  Saturday's game would not go in the Colonials favor as they lost 1-0 to Holy Cross, with senior goaltender, Brooks Ostergard turning away 37 shots in the loss.
  "Brooks was unbelievable tonight.  All you ask for in a goalie is to make the saves he's supposed to and a couple he's not supposed to and keep you in the game and he did that," explained senior forward, Ron Cramer.  "He stood on his head and I think as a team, with the effort we put forth, we really let him down.  He deserves to be livid and he deserves better than we gave him tonight."
  The Colonials penalty kill went 4-4 on the night, which included killing off a five-minute major to senior forward, Furman South for what the officials called checking from behind.  South also received a game misconduct for the hit.
  Losing South was definitely something that hurt the Colonials, because the team was then down from 12 forwards to 11. The Colonials also lost a key body on the penalty kill and power play.
  "He gets a lot of special teams time, he's one of our best penalty killers and he's a big shot on the power play so anytime you lose someone, especially someone who logs a lot of minutes on the special teams, it hurts you," said Cramer.  "It messes with the flow to be constantly juggling lines on the bench and it just becomes a pain."
  After they were able to kill off the penalty to South, the team was proud of their efforts.  "It felt really good.  It gassed us a bit, but we practice stuff like that all of the time and we're confident in our penalty kill, and I wish we could have turned the momentum a little bit more after that," said Cramer.
  This was definitely not the outcome that the Colonials were looking for, but they now need to look ahead to next weekend's two game series against Connecticut. 
  "There's not too many positives that we can take out of this game.  I think we need better effort all around.  A positive would probably be how Osty played," said Cramer.  "We love him playing like that down the stretch because if we are going to make a run down the stretch, he's going to be a huge part of it, so obviously the goaltending , but we know we need to do everything better and we will so we're just going to look ahead next weekend to Connecticut. "
About the Writer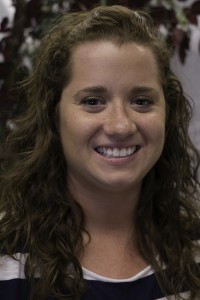 Brooke Smith, Editor-in-Chief
A senior journalism major at Robert Morris University, Brooke serves as the Editor-in-Chief and a staff writer for RMU's student-run newspaper, "The...