Robert Morris selected to participate in NIT Season Tip-Off tournament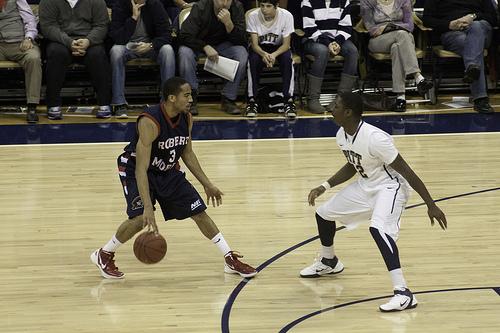 The Robert Morris University men's basketball program will represent the Northeast Conference in the 28th annual National Invitation Tournament Season Tip-Off on Nov. 12 at the Petersen Events Center.
"It's a complement to our program that we were invited to partake in it. I think it's going to get us some experiences that will be memorable for our players," said RMU head coach Andy Toole. "We'll learn a lot about ourselves from the preseason NIT."
The Colonials will face-off against Lehigh, who upset Duke in the first round of last year's NCAA tournament.
If RMU prevails against the Mountain Hawks, they will battle the winner of the Pitt versus Fordham contest the following day for an opportunity to advance to the semifinals at Madison Square Garden.
"Our first game against Lehigh is going to be an incredible challenge and if we're lucky enough to prevail, then our next game will be just as difficult. It's the kind of situation you want to put an experienced team in early in the year and see how they respond," he said.
Before participating in the tournament however, the Colonials open the 2012-13 campaign against Rider. Toole believes that the opening game will help prepare his squad for the types of teams they might face in the preseason NIT.
"Every time you step on the floor it gives you an indication of what you need to improve upon," he added. "We have an exhibition game before that and we have a scrimmage before that so well be able to have numerous opportunities to figure out what we need to improve upon or what we need to focus."
Also participating in this season's preseason NIT are Michigan, Kansas State, Virginia, and a handful of mid-major programs.
The Colonials, who are a six-seed, will look to fair better than conference foe and 2011 NEC representative, Monmouth, who dropped a 91-46 decision in last season's first round match against Virginia Tech.
Senior Lijah Thompson believes that the program will be able to compete at a high level against the other teams in the NIT Tip-Off due to RMU's two new transfer players, Karvel Anderson and Vaughn Morgan, and freshman Steve Hawkins.
"With them knowing what playing in college games are like, their experience will carry over into the season," said the 6-foot-7-inch center. "Hawkins is maturing fast but he still has a lot to learn."
Because the tournament provides an opportunity for the Colonials to participate in up to three extra contests this season, Toole believes that his squad will be better prepared for Northeast Conference as a result.
"There are a lot of games that we'll play heading into our conference schedule that will hopefully prepare us for that," said the third year coach. "That's the idea behind playing in the NIT and even playing in the CIT last year. We want to give our guys as many opportunities as possible to be on the floor."
About the Writer
Nick Buzzelli, Sports Editor
Nick is a senior communication major with a concentration in journalism at Robert Morris University and is the Editor-in-Chief of RMU Sentry Media.

In...