Robert Morris tabbed co-favorite in CHA preseason coaches poll
If polls are any indication whatsoever as to how a team will perform, the RMU women's hockey team is going to have a knockout season.
In the College Hockey America conference preseason coaches poll, the Colonials were co-favorites along with RIT and Mercyhurst.
"I don't necessarily think it [preseason ranking] would be pressure," said sophomore goaltender Jessica Dodds. "It's just a baseline for where we want to go and how far we want to go up."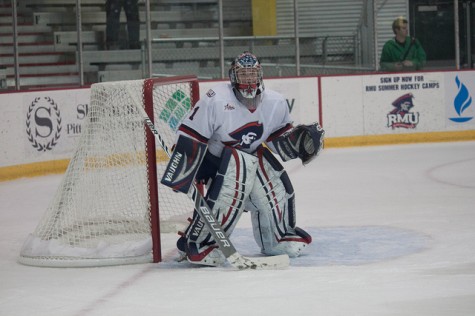 Sharing the top spot with in-state rival Mercyhurst provides the team with an extra edge coming out of the gates.
"Mercyhurst has been our rival for forever," said senior defenseman Kelsey Gunn. "So having that tight competition, it's definitely going to add to the whole push to be better than them scenario that we've got going on."
"It'll be nice this year to actually crush them [Mercyhurst] and get them out of the polls there," senior captain Rebecca Vint added.
After a 10-2 exhibition victory against Bluewater this past Saturday, RMU has made their first appearance of the season in the United States College Hockey Online (USCHO) poll.  The Colonials are in the "receiving votes" category with two votes.
Last year, RMU clung to the top ten in the USCO and USA Today/USA Hockey Magazine polls for 12 weeks straight.
"I don't think it really adds pressure because we don't really look at [polls] in terms of how we play," Vint said.  "We come every day and we try our hardest and as we continue to do that, the polls don't really have an effect on us."
RIT was also in the "receiving votes" category.  Mercyhurst, on the other hand, was ranked ninth.
"The reality is, our league is so tough right now," said head coach Paul Colontino.  "It's very, very deep where any team can literally beat anybody at any given night.  Just knowing that relieves some of the pressure in the sense that any time we've got a league game, we know it's going to be a battle."
The Colonials host Bemidji State for their regular season opener this Friday at 7:05 at the 84 Lumber Arena.