Sacred Heart shuts out Colonials 1-0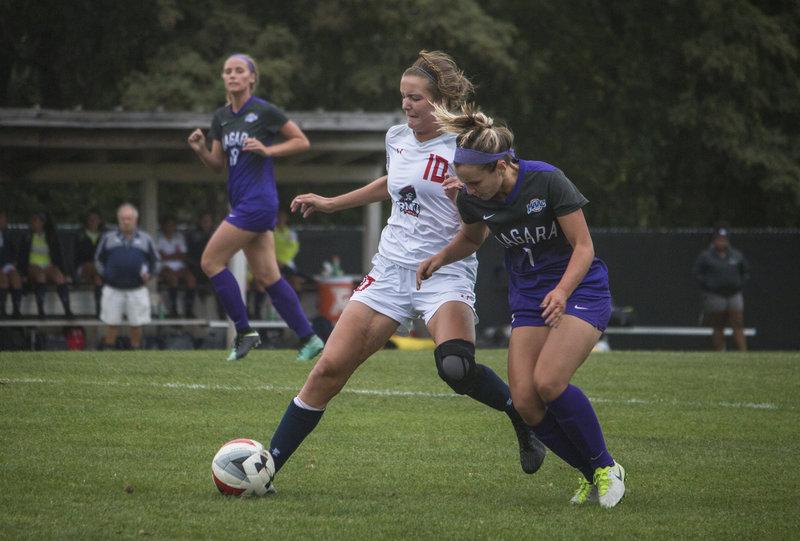 Carter Conroy
October 1, 2017
The Robert Morris Colonials women's soccer team (2-9) fell to the Sacred Heart University Pioneers (4-8) by a score of 1-0 Sunday. The Colonials now have a record of 0-2 in conference play after dropping their first game to Bryant University on Friday in double overtime 2-1.
RMU has fought very hard in their first two conference games, losing both by just one goal. "We created a couple of chances but not enough," said head coach John Kowalski.
In addition, the home team put up just three shots in the first half compared to the seven shots that Sacred Heart put forth.
The lone goal for the Pioneers was scored late in the first half 34:50 into the match by Alex Mesropyan. Mesropyan scored off of a beautiful header from a corner kick from the right side of the field. Alyssa Hyland for SHU had the initial kick and was awarded the assist for the goal.
Robert Morris goalkeeper Sydney Bruckner kept her team in the match all day long with many key saves throughout both the first and second halves. Sacred Heart ended the match with 13 total shots.
Late in the first half, RMU star junior forward Jane Schleicher nearly tied up the match with a kick that went just over the goalkeeper's head and hit the side of the post. This was arguably the Colonials' best goalscoring chance of the game.
The first half ended with a score of 1-0 SHU, and this would be the score after 90 minutes of play as well.
In the second half, the Colonials started strong and had a few shots early by team leaders Maleha Kureishy and Kasia Bak.
Robert Morris had a great opportunity later in the half after being granted a free kick from just outside the box. Unfortunately, the initial kick was blocked and sent out of danger fairly easily.
Schleicher had another great chance late in the half with a close shot from the right side that went just left of the goal. This chance was the product of a nice passing play by the Colonials that found an open Schleicher who was nearly able to tie the match.
Bruckner made a few very strong saves late in the match and was instrumental in giving the Colonials a chance to come back in the match.
After the final few shots from Sacred Heart, the Colonials were not able to generate much of anything in the final minutes, securing the victory for the Pioneers.
"We need to apply better ball possession. We can't be too hyper and eager trying to send a long ball in instead of playing and putting the ball on the ground," Kowalski said.
Robert Morris will go to Loretto, PA, to face Saint Francis University next weekend for a 1 p.m. Sunday matchup. Kowalski believes his team needs to make some adjustments in their game against the Red Flash.