Schooley signs contract extension
Any sports off-season can see major shake-ups and changes to a roster, especially at the collegiate level.  Robert Morris Univeristy ensured men's hockey fans that their head coach, Derek Schooley, will be with the Colonials through 2016.  Although he still had one year left on his contract, Schooley wanted to get his new contract signed for many reasons with the main reason being recruiting purposes.
 "You want to be able to tell incoming players you're going to be here and you're going to be their coach," said Schooley.
Coach Schooley is very appreciative for the new contract that Dr. Dell'Omo and Dr. Coleman have given him.
"I'm very thankful to Dr. Dell'Omo and Dr. Coleman for putting faith in me to continue to lead this program."
Schooley has been coaching at RMU since the NCAA Division I men's hockey program first started in 2004.  "Any time you start something from scratch, you want to see it continue, and obviously we've had some very good years here," recalled Schooley.  "And I like it here, I like Pittsburgh.  I like Robert Morris, and this is where I want to continue to be."
While Schooley is excited about his new contract, his players have mutual feelings regarding his extension.  2011-2012 captain, Trevor Lewis, knows that his coach deserves the extension, and is glad he will continue to lead the team in the future.
"I think Coach Schooley has done a great job with our program and our program success has been growing as a result of that, so I'm happy for him and glad he got the extension," remarks Lewis.
Junior defenseman, Brendan Jamison agreed and only had positive things to say about his coach getting a well deserved extension.  "He's done a great job moving the program forward each year," said Jamison.  "It seemed only logical to extend his contract and I'm very happy for him."
About the Writer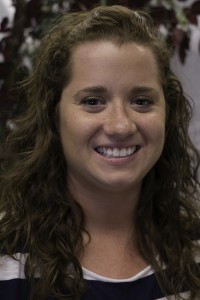 Brooke Smith, Editor-in-Chief
A senior journalism major at Robert Morris University, Brooke serves as the Editor-in-Chief and a staff writer for RMU's student-run newspaper, "The...