Season preview: Colonials poised to send Buscaglia off on a high note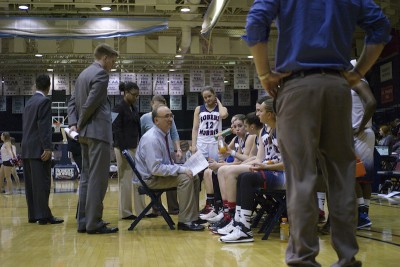 When the leaves begin to change color and fall to the ground at Robert Morris University, it means two things: another cold winter is quickly approaching, and so is Colonials basketball.
RMU women's basketball comes into its 2015-16 campaign looking to take the next step. After a championship season and NCAA Tournament berth two years ago, the team fell in the Northeast Conference (NEC) title game to St. Francis Brooklyn, 77-62. The Colonials finished the season with a 17-15 mark, including a 13-5 mark in the NEC.
For the third straight season, the Colonials are the incoming favorites, having received seven of a possible ten first place votes in the NEC Coaches Preseason Poll. But for the first of those three, the team has a plethora of upperclassmen to lead by example. After having just four seniors on the roster over the past two seasons, the Colonials feature four on this year's team alone, along with three juniors.
"It's so competitive because everyone's fighting to earn some minutes, playing time. We go after each other, we compete, we are working hard," said preseason All-NEC selection Anna Niki Stamolamprou. "We have no excuse for this year with, you know, being mature and bringing experience from the past two or three years," said the 5-foot-9 junior from Thessaloniki, Greece, who led the team with 15.2 points and 5.6 rebounds per game last season.
Coach Sal's Last Year
This season will mark the last season with head coach Sal Buscaglia at the helm. Buscaglia is second all-time with 205 wins during his tenure at RMU. Overall, he has a record of 423-290, with three NEC postseason titles, four NEC regular season titles, and three Brenda Reilly NEC Coach of the Year awards under his belt in his 12 seasons as head coach.
"I think I'm going to miss trying to help them," said Buscaglia in an interview with RMU Athletics. "But I'm still going to be a part of the program in an administrative sense, so hopefully I'll still have some limited contact with them, because I don't think I could do it totally cold turkey."
Coach Sal hasn't seemed to have lost his fire as he closes in on the conclusion of his time as the head coach, and his players have taken notice.
"Right now we have really good individuals, but coach is trying to make us like a unit," said Stamolamprou.
"Not being on the sidelines and not being the main person to coach and to not be recruiting, it's going ot be a little bit different. But I think I'm doing a pretty good job of focusing on this season because this is not the last season for many of these kids," said Buscaglia.
What They Lost
The Colonials enter this season without Jolie Olingende (graduation) and Judith Sole (transfer to Duquesne University) from last year's squad. With both players playing power forward and center, respectively, the Colonials lose a good bit of depth in their frontcourt.
Olingende provided physicality, averaging 3.0 points and 2.7 rebounds per game, despite only playing roughly eight minutes per game. She was a liability in some areas, though, especially at the free throw line: her 49.1 percent (26-53) mark was good for second worst on a team that only shot 63.8 percent overall from the charity stripe.
Sole, a much larger loss for the team, provided a huge size advantage for a mid-major program in a small conference. Standing at 6-foot-3, she provided 6.0 points and 5.6 rebounds per game, all the while only playing 15.6 minutes per game. She knocked down 11 three pointers and shot 71.4 percent from the free throw line as a center, not something entirely common from that position. Her ability to dominate the boards and spread the floor with her shooting ability from all over the court will leave a gap to be filled by the current roster.
What They Gained
Robert Morris welcomes in a five-player recruiting class, featuring four freshman and one redshirt senior. The team has continued to tap into its international pipeline, bringing in more talent from Canada and Greece. The newcomers include:
· Nia Adams, a 5-foot-10 freshman guard from Paterson, N.J.
· Vicki Karambatsa, a 6-foot-2 freshman forward from Athens, Greece
· Leah Wormack, a 6-foot-1 redshirt-senior forward that transferred from UNC-Ashville
· Yasmyne Salhia, a 5-foot-8 freshman guard from Toronto, Ontario
· Caitlin Roche, a 5-foot-8 freshman guard from Montvale, N.J.
Coach Buscaglia has played more than his fair share of underclassmen in his time at RMU, especially in the past few seasons due to the low number of upperclassmen available.
"Our expectation is that, we feel, each of them can contribute," said Buscaglia. "I never really in all my years doing this put a label on 'You're a freshman, you play less; you're a senior, you play more.' It's who do we think can help the team. If a freshman can come in and be a significant contributor right off the bat, then they will be."
Roche, brought in for her sharp-shooting skills, looks like she may miss her first year of action due to a leg injury sustained over the summer.
Injuries have plagued the newcomers, but Buscaglia has his eye on a few, including Adams, Karambatsa, and Wormack.
"I think Nia will help us a great deal, and I think Vicki will help us a great deal. When you have youth, you're always a work in progress. I have confidence that they will continue to grow and by January and conference play they'll be ready," said Buscaglia. "We think Leah can bring us some great post-up opportunities, as well as her experience. She's already played D-1 for three years, so we really think she'll bring that experience."
Adams will have to battle in what is an incredibly deep backcourt, while Karambatsa and Wormack will have to step up quickly, with only three forwards and two centers on the 15 player roster.
The Colonials also welcome back senior point guard Randi Jackson, who spent last semester away from the team for academic reasons. She will be called upon to add depth to a position the Colonials have struggled with over the past few seasons.
Guards
The backcourt of the Colonials is as deep as any mid-major program in the nation. While they're led by Stamolamprou and senior leader Ashley Ravelli, the team also returns major players Rebecca Navarro, Janee Brown, Lou Mataly, and Jackson.
Stamolamprou led the Colonials in several key categories, including minutes played, points, rebounds, assists, and steals. She's the star of the show, and is poised for a huge year after rehabbing a knee injury sustained in the NEC championship game this past spring.
"Everyone knows the ability of Anna Niki, so I don't think that's going to be a surprise to anybody. I think she has the ability to be player of the year in this conference," said Buscaglia.
Ravelli, on the other hand, is coming into her last season as a Colonial. Last season, she started out the season incredibly hot, but struggled down the stretch. Still, she led a team that struggled mightily from the charity stripe, hitting 30 of her 36 attempts.
"I think the table is set for Ashley Ravelli to really play her best basketball. So I'm hoping she ends her career on a really high note," said Buscaglia.
Navarro, a junior, and Mataly, a senior, bring the Colonials even more perimeter threats, as the two combined to hit 69 shots behind the arc for a team that shot at a 34.6 percent clip overall. Each have had their troubles, though, with Navarro struggling to score off of the dribble, and Mataly struggling to keep healthy throughout the long seasons.
Forwards
The frontcourt of this team is where the real story is. While Stamolamprou attracts the majority of the attention with her impressive play, this team's success will ultimately come down to how well the forwards can rebound the ball and take pressure off of the guards to knock down shots.
With Sole and Olingende out of the picture, the door is wide open for sophomores Megan Smith and Mikalah Mulrain to step up and shine. The duo impressed in their inaugural collegiate season, providing 14.6 points and 8.6 rebounds per game on route to earning NEC All-Rookie Team honors. Mulrain led the team in shooting percentage at 54.5 percent, while Smith knocked down an impressive 42.9 percent of her three-point shots and 71.3 percent of her free throws.
"I think Mikalah has a year under her belt, she's always been a big rebounder, that's a part of her game that I think is a positive," said Buscaglia. "I think she's strong. I think Megan Smith has a lot of potential, she did some great things in her freshman year."
Schedule
Starting in non-conference, the Colonials have some marquee match-ups early. A rematch on Dec. 6 with the Iowa Hawkeyes, ranked 23rd in the USA Today/Coach's Poll. The Colonials played them tough in their season-opener last season, falling 85-67.
Exactly one week later, the team will travel to Gainesville, Fla. to take on the Florida Gators, another power conference team. The Gators finished 13-17 overall last season, including a 5-11 record in the Southeastern Conference.
Robert Morris also has scheduled rematches with the La Salle Explorers and Youngstown State Penguins, both of which defeated the Colonials in close contests, with the Colonials taking the Penguins to overtime.
Last year's team had a lot of talented programs on the ropes, including Xavier and Cornell, but fell apart down the stretch and in overtime. The team was outscored a combined 35-11 in overtime last season.
When conference play gets rolling, the Colonials will have to take to the road for a four game stretch that runs from Jan. 23 to Feb. 1. Over that time, they'll face Bryant, Central Connecticut State, St. Francis (Pa.), and Mount St. Mary's.
The four teams comprise four of the top eight teams in the NEC. If RMU can run through that gauntlet on the road and come out with at least three wins, it will be sitting pretty in the conference standings.
An interesting note: the Colonials will not face cross-town opponent Duquesne, where Sole transferred. This will be the first time the two teams haven't played each other in over a decade. While Sole might not be the reason the two programs cut ties to the suedo-rivalry, it doesn't help that Robert Morris hasn't won against the Dukes since 2009.
Best Case Scenario
The team, chalk-full of experienced upperclassmen, finds a way to win those close games, dominates the NEC, and sends Buscaglia off with a 20-plus win season, conference title, and NCAA Tournament appearance.
Worst Case Scenario
The injuries stunt the development of the underclassmen, and the sophomore class slumps, putting too much pressure on Stamolamprou and Ravelli. The Colonials finish in the middle of the NEC in an underwhelming season.
Prediction
Non-conference: 4-7
Northeast Conference: 15-3
Northeast Conference Tournament: 3-0
NCAA Tournament: 0-1
Overall: 22-11
If the Colonials can stay healthy and find a way to keep their forwards and centers fresh and out of foul trouble, this team has a chance to send Coach Sal off with an incredibly memorable season. This team was predicted to win the conference for the third year in a row, which is an astounding accomplishment.
Robert Morris will start its season Friday, Nov. 13 when they host West Virginia Wesleyan. Tip-off is slated for 10 a.m. at the Charles L. Sewell Center.
About the Contributor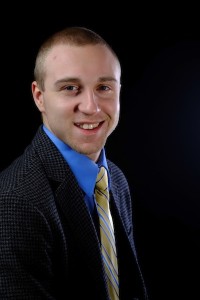 Vince Russo, Assistant News Editor
Vince Russo, a freshman communications major with a focus in journalism, is the Assistant News Editor of the Sentry, RMU's student-run newspaper, where...