SEASON PREVIEW: Women's Basketball
From the moment that No. 1 seed Notre Dame handed the Robert Morris women's basketball team a 93-42 loss in the first round of the NCAA Tournament, the Colonials have had to contemplate what life after Artemis Spanou will be like.
"As a coaching staff, we've been learning what's best for the players without Artemis," said head coach Sal Buscaglia. "I think we see talented players here, but we're going to have to play different."
Spanou wasn't just the team captain and go-to player. She was a dominating force in the post, from behind the arc, and on defense as well. More importantly, she was their leader.
Spanou ended her college career third in NCAA history in double-doubles, 10th in rebounds, was twice named Northeastern Conference Player of the Year, and set school records in both points scored and rebounds.
With her now graduated and playing overseas in Turkey, it's time for a Robert Morris squad that features 10 underclassmen to pick up the slack.
They also have to deal with the pressure that comes from being defending NEC champions, and tabbed first in the conference preseason coaches poll.
"It's always nice to have the respect of the coaches," said Buscaglia. "Quite honestly, it was kind of surprising. We have ten underclassmen, underclassmen being defined as freshman and sophomores. And we only have three juniors and one senior. So I'm very, very surprised, but I appreciate the respect."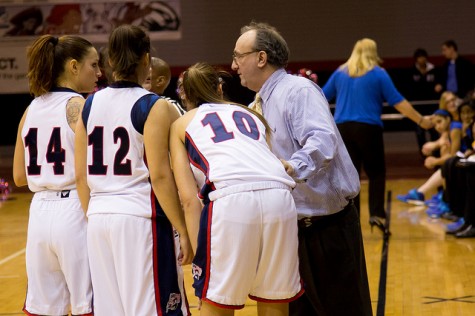 Guards
Seasoned veteran and junior Ashley Ravelli leads a deep rotation of guards coming into the 2014-15 campaign. She is coming off a bit of a sophomore slump, with her scoring average going from 10.4 to 8.8 points per game, and her shooting percentage falling from 34 to 29 percent.
If she is able to get her stroke set, it would greatly compliment sophomore Rebeca Navarro, who canned 40 percent of her attempts last season.
"I'm just trying to get the leadership role that we lost with Artemis leaving. I'm just trying to do all I can do, just step up my game as well, probably more so than others since I'm a junior," said Ravelli.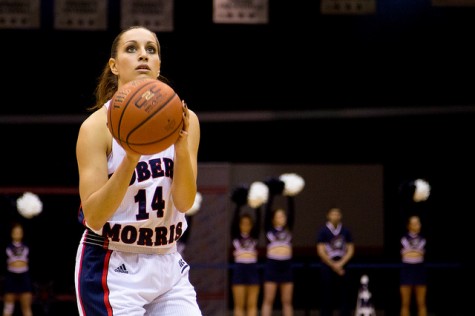 One of the biggest questions regarding both the guard play and team in general is the status of Lou Mataly. The French native started off her career strong as a freshman, but recurring knee injuries have sidelined her the last two seasons. Known for her prolific shooting touch, the junior brings 66 made three point attempts and serves as another threat from deep.
Her presence will keep the floor spaced out, forcing opposing defenses to be honest.
"She's moving very, very well, I think they did a great job with the surgery and the rehab. She's doing really well," said Buscalgia. "She's shooting the ball well, she's working hard, and she's got a great attitude, so we certainly view her as a contributor."
Sophomore point guard Janee Brown's progression will be interesting. What Brown lacks in finesse, she makes up for in natural athletic ability. She'll need to improve her jump shot.
She's now gearing to take better care of the ball and facilitate the new offense after the offseason.
Fellow sophomore Anna Niki Stamolamprou is a dynamic player that can play both shooting guard and the point. She was second to Spanou in both points and assists last season, averaging 12.4 and 3.0 assists per contest. Junior Randi Jackson will also provide a veteran presence in the backcourt, as well.
Forwards
All eyes are focused on returning sophomore Cassie Oursler, and for a good reason.
Along with Stamolamprou, Oursler was named to the NEC's All-Rookie team, compiling an impressive 7.4 points and 5.0 rebounds per game, as well as a team leading 53 blocks.
A force on both sides of the ball that blossomed late in the Colonials' NEC title run, expectations around campus and the conference are high for the second- year forward.
"I think it's going to be a challenge for Cassie this year, because Artemis really set up Cassie a lot. Artemis would get double teamed and Cassie would be open and dive from the high post. So now Cassie has to learn to create for herself," said Buscalgia. "She's not right there yet creating for herself. When she gets the ball in the post she's got to learn counter moves, she's got to learn the game a little bit more."
Incoming freshmen Johnnah Johnson, Jocelynne Jones, Mikalah Mulrain, Shakema Dashiell and Megan Smith, as well as returning sophomore Judith Sole all look to contribute in their early college careers.
Smith is especially intriguing, as she's already developed a bond with Oursler
"Me and [Smith] are close, and she's a four, so she's also a post. I'm like 'keep your confidence up, it'll come, everything is going to be ok'," said Oursler.
Jolie Olingende is the lone senior on this year's squad, but is sort of a sophomore in her own way. This will be Olingende's second year at the Division I level. She is known as the strongest player on the team this year physically, but will need to add some finesse to her game down low. She'll be primarily relied upon for defense and rebounding.
Best Case Scenario
An offseason of seasoning enables both Stamolamprou and Oursler to break out and play at a high level. Ravelli finds herself as the voice of the team and improves upon her sophomore campaign, the freshmen provide depth and energy, and the Colonials are again conference champs and NCAA tournament bound.
Worst Case Scenario
The freshmen take longer than expected to learn and adapt at the Division I level, the upperclassmen struggle to lead a team through a season with targets painted on their backs, and the loss of Spanou is heavily felt on a team lacking identity.
 Even with the loss of the former face of their program, the Colonials have high hopes and expectations going into the 2014-15 campaign.
"I think everyone came with a different mindset. Everyone's ready to give their everything. Judith's worked on getting stronger, Rebeca's worked on her shooting and crashing rebounds, Janee's working on keeping her head up on the dribble. Everyone's working on something," said Oursler. "Now we got something to prove as a team, that we can, even with Arte gone, we want to prove to her and everyone else that we can pick up what she gave to us and learn from what she did and try and bring that to the table."
Robert Morris begins the season on the road against Iowa on Nov. 16th.