NEC opener turns into home run derby
Hang on for a minute...we're trying to find some more stories you might like.
The Robert Morris University softball team started its Northeast Conference play by sweeping Mount St. Mary's in a doubleheader match-up Sunday afternoon that featured 12 home runs.
"After two games it's great to be 2-0," head coach Craig Coleman said. "Hopefully we will have a repeat performance tomorrow."
In the first game, the Colonials started off strong thanks to two home runs by Kristen Gabelt and an RBI single from Haileigh Stocks, which gave the Colonials a 4-0 lead by the third inning.
However, Mount St. Mary's answered with three solo home runs in the fourth to close the gap to a one-run lead for the Colonials. Despite the three home runs, the Colonials bounced right back in the fifth inning with three runs of their own to extend their lead and eventually win game one by the score of 7-3.
In the second game, the home run derby continued after the Colonials took the early 1-0 lead. In the second inning, Mount St. Mary's hammered in two two-run home runs to take a 4-1 lead. However, RMU once again bounced back with five home runs of their own.
"It's an unusually high number, but I like it a lot," Coleman said when asked about the number of home runs the Colonials hit today.
Jordan Gurganus hit a three-run home run, Gabelt hit a solo shot to give her three home runs for the day, Tess Apke hit a three-run home run and Ashley Gerhart hit a two-run home run, all in the bottom of the second inning to give the Colonials an 8-4 lead.
Stocks later hit a two-run home run in the fourth inning to give the Colonials seven home runs for the day as they cruised to an 11-6 victory in game two.
Coleman said he was pleased with the offense that the Colonials put up on the scoreboard and was impressed with Gabelt's three home runs as well.
"The wind isn't going to carry a ball two-thirds of the way up the hill," Coleman said when asked about Gabelt's home runs. "She is a strong athlete. She saw the ball really well and was in the zone."
Additionally, Coleman praised Nicole Sleith for her performance in both games as she pitched the entire day for the Colonials.
"It is not easy to throw 14 innings in one day, especially with high pitch counts" Coleman said. "But as an athlete, she is in exquisite shape and we needed every bit from her today."
With the two wins the Colonials improve to 14-13 this season and have a 2-0 record in NEC play.
RMU will face the Sacred Heart Pioneers today in another double header match-up. Sacred Heart is 5-13 on the season with a 1-1 record in the NEC.
Coleman said the Pioneers are a "well-balanced team" that has good pitching. With that, he said he is expecting to see a more defensive battle in today's games.
"I think our games against Sacred Heart will be low-scoring, but I've been fooled before."

About the Writer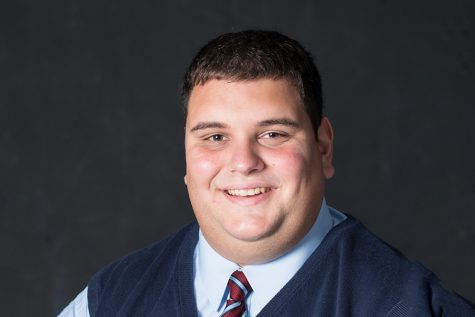 Ian Kist, Sports Assistant
Ian is a communication major with a focus in sport communication and a minor in sport management. He is the RMU Sentry Media Assistant Sports Manager....