Spanou, Robert Morris earn trip to NEC title
"As I said before, one of the goals that I haven't achieved yet is taking a ring and leaving Robert Morris as a champion," said senior Artemis Spanou prior to the start of the 2013-14 season.
Almost five months later, Robert Morris defeated Bryant 72-67 in the Northeast Conference semifinals Wednesday night at the Sewall Center. The Colonials are on the brink of cutting down the nets and earning a NCAA tournament berth.
It would add the perfect exclamation point to the their leader's record-breaking career.
Spanou dropped 24 points, 12 rebounds and eight assists to pace the Colonials. She commanded a double-team most of the game, enabling her to find quick, easy dishes to freshman forward Cassie Oursler, who added 13 points and four rebounds.
"I'm excited," said Spanou. "It's my first time at the final, and I'm excited to play on Sunday. We're going to have fun and see what happens."
The Colonials were pressed when an 11-0 Bryant run to end the first half tied the game at 34. This was due in large part to Spanou being on the bench in foul trouble.
"I made the decision to keep Artie on the bench for a little rest and not get that third foul, and at the time I was kind of second-guessing myself quite a bit," said head coach Sal Buscaglia. "As it turned out, if it wasn't for that rest, she wouldn't have hit that great jump shot at the out-of-bounds play. That was the plan."
The 11-year head coach expressed confidence in his team's chemistry and camaraderie, even when adversity struck.
"One great thing about this team is that they don't mind Artie getting the ball," he said. "They just want to win. If we go through Artie, we go through Artie and that's what we've done. That's what I call a team."
Oursler's presence was known early, as she posted seven points within the first five minutes of play. She's been doing an outstanding job of playing off Spanou and waiting for the easy pass around the hoop.
"They've got a great role player at the five spot as a freshman [Oursler] that I have the great fortune of seeing for the next three years," Bryant head coach Mary Burke said. "So I'm siked about that."
A win on Sunday would send the Colonials dancing for the first time since 2008.
Standing in the way is cross-state rival St. Francis PA and senior forward Alli Williams, fresh off bouncing Mount St. Mary's 68-63 to advance to the conference championship. Both teams split the season series, with RMU handling the Red Flash 83-69 in Moon Township on Jan. 18, before falling in Loretto 78-73 in the second-to-last game of the season.
 Tip-off is set for 3PM.
About the Writer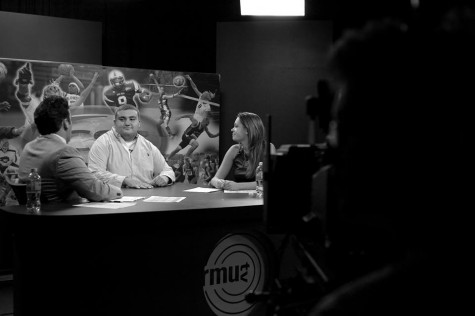 Chris Mueller, Sports Reporter
Chris is a junior Communications major at RMU with an applied concentration in journalism. He is Sports Editor for RMU Sentry Media.  As current Sports...